As the juggernauts of the smartphone industry continue to battle it out with almost identical designs, an independent UK manufacturer has decided to shake things up.
The Gemini PDA is the brainchild of Planet Computing, a company based in London. What really sets the Gemini apart from the dozens of high-end smartphones on the market is something quite simple - the keyboard. The Gemini, designed like a clamshell runs Android 7 and ships with a full-sized, computer-style keyboard.
Open the phone up and it runs almost like a miniaturised laptop. "Type and Create on the move" is the key tagline of the company. The phone includes two USB-C ports, a headphone jack, a 5.99-inch QHD (quad high-definition) screen and a huge 4220mAh battery.
Speaking to IBTimes UK, Planet Computing chief executive and founder Janko Mrsic Flogel described himself as a "serial entrepreneur in the mobile industry". "It is the first new design in the smartphone market for a decade," Flogel said.
"Smartphones have either been a combination of plastic and glass or brushed metal and glass since the first iPhone. Everything looks and works broadly in the same way."
The Gemini has been crowdfunding on Indiegogo since April 2017 and has raised nearly three times its target funds. Investors are still welcome and will be privy to cheaper deals should they want the device. The Gemini will likely enter mass development in March and retail for £499.
But is the Gemini a phone, or a little laptop? "Some people want Gemini as a second device - to replace the need to carry a laptop," Flogel said. "Others want to use it as their only device. The battery is big enough to support a day of use for email, social media, content consumption and phone calls.
"We have deliberately made a Wi-Fi and mobile as well as a Wi-Fi-only Gemini so people can choose their best scenario for themselves."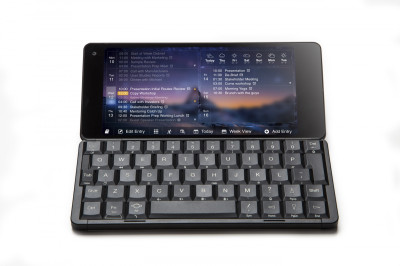 Planet Computing have a clear customer profile for the Gemini: regular typists. "In the uber-connected world, bloggers and journalists want to file copy from anywhere - with Gemini they can without needing a laptop," Flogel said. "The medical profession has expressed a lot of interest because Gemini is portable enough to be carried anywhere but robust enough to make detailed patient notes.
"Systems administrators can use to remotely manage servers with Linux. Site workers can use it to remain in touch. Social media addicts can post quickly and effectively. Gemini is for anyone that wants to create and consume content, not just consume it."
Planet Computing has opted not to fit an external camera to the Gemini. There is a front-facing camera for video calls. A modular 5-megapixel camera can be bought and attached for $49 USD.
The phone was demoed at CES and IBTImes UK was recently given a hands-on session in Canary Wharf.