Stephen Belafonte has slammed allegations that he physically assaulted his wife, former Spice Girl Mel Brown.
Mel B missed the UK X Factor semi-final following reports she had been afflicted with a mystery illness. However, when she returned for the Sunday night show, viewers noted bruises and scratches across her body, sparking concerns about her relationship with her husband of seven years.
Breaking his silence in an exclusive interview with Mail Online Belafonte said: "No one has accused me of anything."
He further challenged the reports that he had hit his wife saying: "Who accused me of it, did she accuse me of it, the police, the hospital, who accused me of it? I thought when you beat someone up the police or the hospital or the person you beat up says it," he said.
On Monday he addressed the claims on Twitter saying: "I don't usually respond to Twitter msgs but I will respond to comments of hitting my wife which I think are quite disgusting un true!
"Mel was very ill a bunch of doctors helped her get better if fans can't just relax B4 being negative they r not real fans of @OfficialMelB."
Mel's family have reportedly expressed their concerns for the singer, describing Belafonte as controlling.
Following news that she was unwell, her estranged sister Danielle Brown wrote a series of desperate tweets, demanding to know of the music star's whereabouts and safety.
Mel's aunt, Diane Cook told the Mirror: "I hope she gets away from him. We all believe Stephen has got her under his control," while her uncle Eric Dixon added: "He is not a very nice bloke."
In 2007, Belafonte was charged with battery after being arrested for attacking his then girlfriend, Nicole Contreras.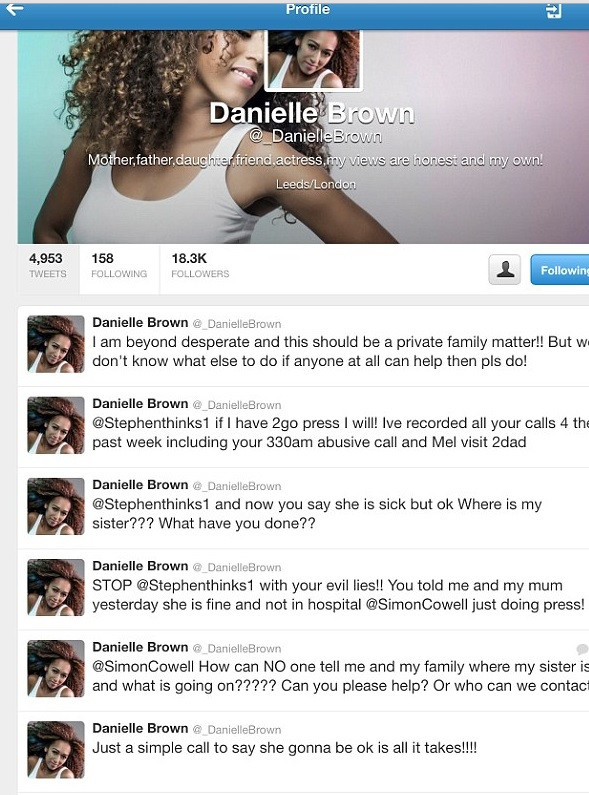 He pleaded 'no contest' to the battery charge and was ordered to take part in a 'Domestic Violence Batterers' Programme'.
A friend of Miss Contreras told a newspaper: "I fear for Melanie because a leopard does not change his spots. He seems utterly charming – but I'm afraid it won't be long before his mask slips."
The X Factor judge's husband was said to have returned to the couple's home in Los Angeles, while Mel has stayed behind in their London apartment, as speculation mounts that their seven-year marriage is on the rocks.
Belafonte, however, seemed to dismiss the controversy as a storm in a teacup. "I mean come on, how long will it take, two weeks a month, two months, a year," he said. "It's not big news, it's not all over the newspapers here (in the US)... it's not a big massive story."