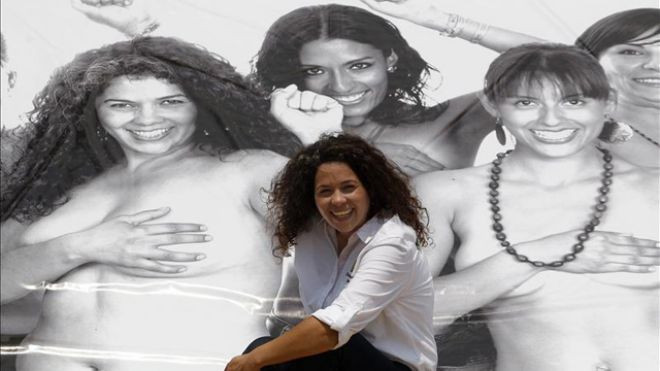 A female Mexican congressional candidate has sparked controversy after posing topless for a billboard in a bid to sway voters.
Natalia Juárez, 34, of the leftist Party of the Democratic Revolution, posed semi-nude for with six other women for what she describes as a "provocative, different and unprejudiced" campaign.
The University of Guadalajara professor told Fox News: "It's an attempt to run a campaign that is different and cheerful, but also an invitation for people to reveal who they are and commit themselves."
The posters, have appeared on the streets of Jalisco, and caused a stir in Mexico's second largest and very conservative city.
In the provocative campaign image, Juárez appears at the centre of women of different ages who cover their breasts with their right hand while raising their left hand in a fist.
The poster included the slogan: "Dare to join a new, unprejudiced nation-building project!"
Despite Juarez insisting that the sexy billboards were supposed "to make an impact and not go unnoticed" her risqué attempt to garner votes has faced a backlash from critics who say it has no substance.
However, Juarez, who is campaigning for a seat in in Mexico's western state of Jalisco's 8th District, remains determined.
"Even if I dressed as a nun and carried a rosary and said that my party was going to give away Bibles and rosaries, they wouldn't."
Mexico's congressional and presidential elections are being held on July 1.