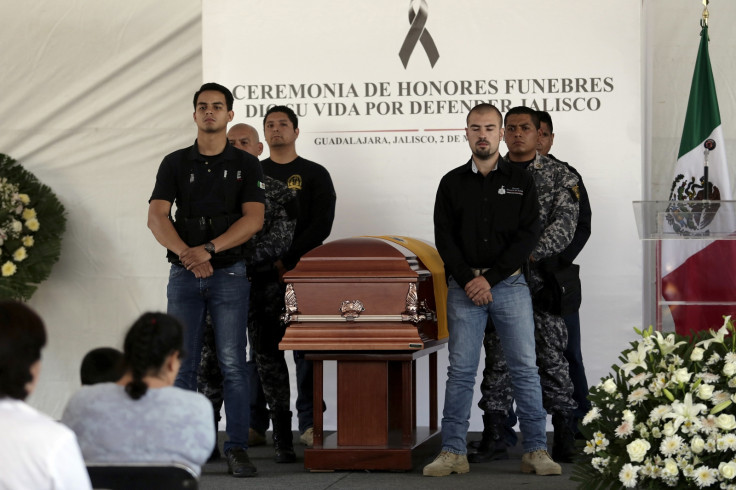 The Mexican army helicopter downed on 1 May was shot down by rocket-propelled grenades by suspected drug cartel gunmen, officials announced on 4 May. Although authorities have not identified who exactly is responsible for the attack, it is widely attributed to the Jalisco New Generation Cartel.
National Security Commissioner Monte Alejandro Rubido told Televise that the cartel's use of RPGs demonstrates its significant firepower, according to the Associated Press. Rubido later told Radio Formula that the attack "is the first time that they've shot this kind of helicopter."
Former Mexican intelligence chief Guillermo Valdés told the Wall Street Journal, "This means the Jalisco New Generation Cartel is a powerful organization with the money to acquire powerful weapons, form small armies and train their people in the use of these weapons."
According to the AP, Friday's violence throughout Jalisco left at least 15 dead and 19 injured. A total of 11 banks and five gas stations were also burned.
Rubido told reporters that three soldiers who were initially reported as missing have been confirmed to be dead. A total of six people were killed during helicopter attack. Rubido added that a state police officer was killed in a separate attack, as well as eight suspected gunmen.
As previously reported by IBTimes UK, the military helicopter was shot down in western Mexico, forcing it to make an emergency landing about 150 miles southwest of Guadalajara in the cartel-held state of Jalisco.
Following the attack on Friday, Jalisco Governor Aristoteles Sandoval said the cartel violence was in response to the federal government's Operation Jalisco, which he said is "an operation to get to the bottom of and to be able to arrest all the leaders of this cartel, of this organisation."