Mexico's 43 Missing Students: Iguala Mayor Jose Luis Abarca 'Murdered Political Rival'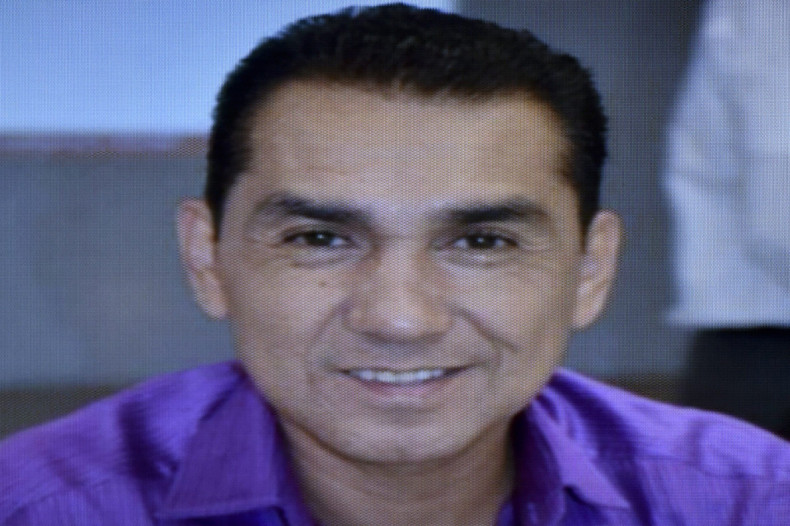 The former mayor of a Mexican town arrested for the mysterious disappearance of 43 students has been accused of having killed a political rival.
According to a witness who was kidnapped and tortured in Mexico in 2013, Jose Luis Abarca, former mayor of Iguala, Guerrero state, was behind the killing of engineer Arturo Hernández Cardona.
Cardona was also the leader of Unidad Popular, a defence movement founded by farmers.
Nicolás Mendoza Villa says he witnessed the killing of Cardona as he was working as a driver for him.
In an exclusive interview with Spanish newspaper El Pais, Villa explained he was driving Cardona and six other members of the Unidad Popular home from a protest they had staged against Abarca in the evening of 30 May 2013.
However, a jeep chased them and stopped in front of the vehicle, impeding Villa to drive further.
Some hitmen got off the jeep and, after shooting some bullets in the air, abducted Villa and the others. They took them to a place where other captured people were.
Most of the victims were tortured and then assassinated by beheading with a machete, Villa said.
One evening, Villa claims Abarca arrived at the place where he and the others were being tortured.
"He was looking at us while we were getting hit. He did not say anything, he was just drinking beer," Villa said.
The then mayor returned the following morning. Villa alleges that he offered a beer to Cardona, who thanked him, and then "ordered the engineer to be carried in a nearby grave. He then said to him: 'You are annoying me so much that it will be a pleasure to kill you' and then he shot him in the head."
Villa saved his life as he managed to flee when his abductors moved him to another location where they were going to assassinate him. He left Iguala and does not live with his family anymore, as his house has been raided by the hitmen several times.
Abarca and Mexico's Drug Cartels
Abarca has been accused in the past of direct participation in torture and murders of activists, while his wife Maria de los Angeles Pineda Villa has links to gangs as members of her family (at least three brothers) are part of the Beltrán Leyva drug cartel.
Abarca was arrested after he fled with his wife, following the disappearance of 43 students from Ayotzinapa Teacher Training College "Raul Isidro Burgos" in Iguala.
The students are believed to have been kidnapped after they had staged a protest against what they called "discriminatory hiring practices" for teachers, which favour urban students over rural applicants.
Eyewitnesses said that the students were forced to sit in police cars and taken into custody.
The discovery of several mass graves on the outskirts of Iguala, fuelled fears that the youths could have been killed by drug cartels, aided by corrupted police, such as Guerreros Unido, or United Warriors. According to others, the students were handed over to the Beltrán Leyva.
Some have alleged that Abarca ordered Iguala's police force to attack the students over fears that their protest would disrupt a speech by his wife.