A new blog is making sure the world knows the names and faces of the 43 students from Ayotzinapa teachers' training college in Guerrero, Mexico who went missing on 26 September.
The site, Ilustradores con Ayotzinapa, invites artist to draw and paint portraits of the missing youths from their student photos. Many of the illustrations have gone viral, shared on social media using the hashtag #IlustradoresConAyotzinapa.
One of the artists, known as Bef, told the BBC he felt it was his "obligation" to get involved because "government-run media outlets are helping to hide the truth". He says social media protests are now the "only option" and each drawing makes a "powerful statement".
We republish a small selection of the portraits here. See the full set at http://ilustradoresconayotzinapa.tumblr.com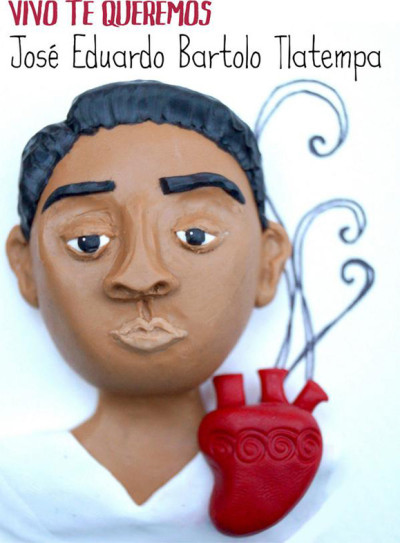 The students went missing after they clashed with police in Iguala on September 26. The case has stoked popular anger for justice amid reports that local security officials and Iguala's mayor are suspected of conspiring with gang members to kill the students.
Prosecutors say the students were later handed over to a drug gang, some of whose members have claimed to have killed the youths. But despite a widespread search, authorities have been unable to find any sign of the students.
Officers in Iguala are alleged to have worked for the Guerreros Unidos drug gang, which authorities say had ties to the former mayor of Iguala, Jose Luis Abarca, and his wife, Maria de los Angeles Pineda.
The couple went on the run shortly after the students disappeared, but were arrested by police in a raid, hiding out in a gritty Mexico City slum.
The names of the 43 missing students:
Abel García Hernández, Abelardo Vázquez Periten, Adán Abrajan de la Cruz, Alexander Mora Venancio, Antonio Santana Maestro, Benjamín Ascencio Bautista, Carlos Iván Ramírez Villarreal, Carlos Lorenzo Hernández Muñoz, César Manuel González Hernández, Christian Alfonso Rodríguez Telumbre, Christian Tomás Colón Garnica, Cutberto Ortiz Ramos, Dorian González Parral, Emiliano Alen Gaspar de la Cruz, Everardo Rodríguez Bello, Felipe Arnulfo Rosas, Giovanni Galindes Guerrero, Israel Caballero Sánchez, Israel Jacinto Lugardo, Jesús Jovany Rodríguez Tlatempa, Jonás Trujillo González, Jorge Álvarez Nava, Jorge Aníbal Cruz Mendoza, Jorge Antonio Tizapa Legideño, Jorge Luis González Parral, José Ángel Campos Cantor, José Ángel Navarrete González, José Eduardo Bartolo Tlatempa, José Luis Luna Torres, Joshvani Guerrero de la Cruz, Julio César López Patolzin, Julio César Ramírez Nava, Leonel Castro Abarca, Luis Ángel Abarca Carrillo, Luis Ángel Francisco Arzola, Magdaleno Rubén Lauro Villegas, Marcial Pablo Baranda, Marco Antonio Gómez Molina, Martín Getsemany Sánchez García, Mauricio Ortega Valerio, Miguel Ángel Hernández Martínez, Miguel Ángel Mendoza Zacarías, Saúl Bruno García.