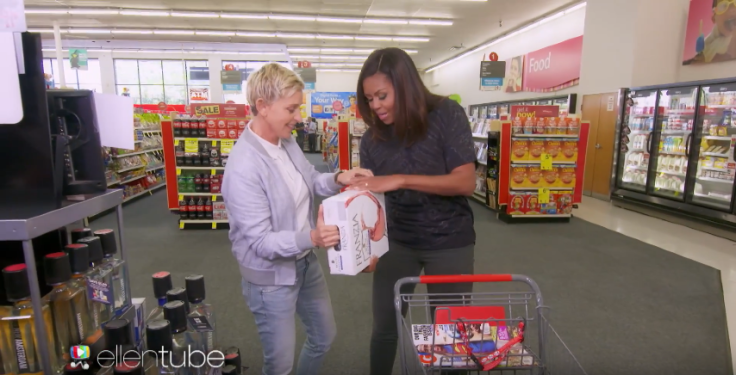 It was a special day at supermarket franchise CVS when Ellen DeGeneres and Michelle Obama visited one of the stores for a round of shopping. To help the First Lady get ready for civilian life after she moves out of the White House, the talk-show host took her to get acquainted with the everyday task of buying groceries.
"You push the basket because nobody's going to push it for you," the comedian said as they made their way into the store with DeGeneres claiming that CVS stands for "cotton, Vaseline, and stuff". The two shopped for Halloween candy, and Obama checked out a couple of headphones for her daughter Sasha — with The Finding Dory voice actor giving her an unwelcome back scratch.
The host then uses a megaphone to ask for rash cream for her friend "Shelly" before the two headed to the alcohol section to try a "box wine". They invited other shoppers to join them for a drink and DeGeneres signed a baby's shorts, after Obama stopped her from signing the little guy's forehead.
Trying her hand at the self check-out counter, Obama then pushed DeGeneres (in the shopping cart) along with all the newly purchased items out of the store. "You are really not a good person to shop with," the First Lady mentions. "It's like taking a three-year-old to the store."
Watch the complete video of the segment for The Ellen Show below: