Launched in the US in October 2014, the Microsoft Band will finally make its UK debut on 15 April, with the cross-platform fitness tracker costing £170.
The Microsoft Band combines the features of a fitness tracker with those of a smartwatch and will even tell you when you are feeling stressed.
At a time when Apple is getting all the headlines for its first wearable, Microsoft's Band has not had the smoothest of launches. Some of the initial reviews were pretty damning, with PC Mag calling it "wildly uncomfortable", while CNET compared it to a shackle or handcuff.
However, it seems those who have bought the device have a better opinion of the wearable, with customer reviews for the Band (admittedly on the Microsoft Store website) have an average rating of 4.3/5 while the Health app the company launched in connection with the Band "has more than 1,000 reviews in the Windows Phone, Android and iOS app stores with an average rating of 4 out of 5".
Sensor laden
The Microsoft Band's key selling point is the 10 sensors that monitor everything from steps taken to your heart rate and calories burned. However, features like the UV sensor to remind you when to put on sun cream and a "galvanic skin response measurement" to let you know when you are feeling stressed, make it stand out from the crowd.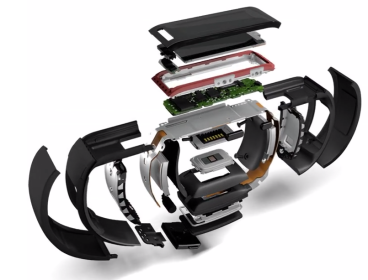 While primarily focused on health and fitness tracking, the Microsoft Band also includes a number of smartwatch features, including getting alerts for incoming calls, messages, social media updates and email.
The alerts are delivered on the 1.4in screen, which has a resolution of 320×106 pixels. The Band features a tiny 100mAh battery that Microsoft says will give customers 48 hours of normal use. Charging is done through a magnetically attached charger and the band will come in three sizes so should fit most wrists.
Cortana on your wrist
While the phone works across all three major smartphone platforms, using it with Windows Phone will mean you get access to Microsoft digital assistant Cortana on your wrist. Cortana will also allow users to record notes and set reminders about their workouts.
Collating all the data collected by the Band is Microsoft's Health app, which is part of a much bigger push by the company to monitor people's fitness, and features a cloud service that, as well as recording your movements, will offer suggestions such as how long you might been to recover from a workout.
Microsoft's Health platform is open and will work with a range of third-party apps as well as different devices such as the Jawbone Up. The company is clearly pushing to become a central source for people's fitness tracking even if they move to a different smartphone.