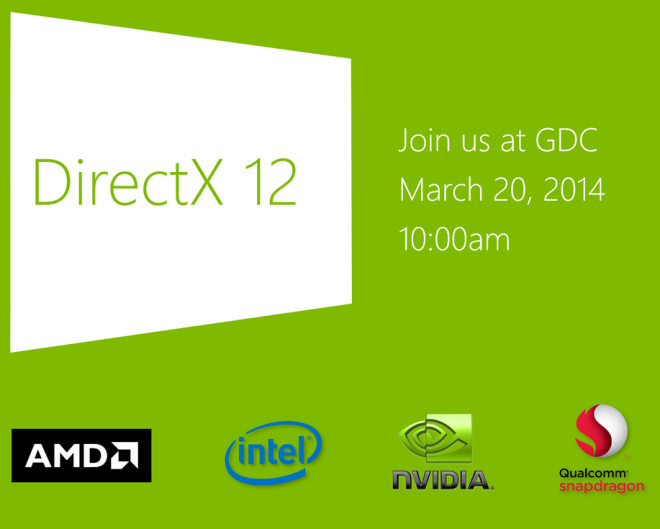 Microsoft has just announced its plans to showcase the next-generation API platform for gaming, the DirectX 12, at the upcoming Game Developers Conference, which is scheduled from 17 to 21 March in San Francisco, California.
The news of upcoming DirectX 12 details were first spotted online via a new Twitter account launched by Microsoft, besides a teaser page carrying information about the GDC schedule and the two key sessions involving the future of DirectX/Direct3D graphics platform for gaming.
The first session - "DirectX: Evolving Microsoft's Graphics Platform" - will be hosted (20 March 10 am local time) by Anuj Gosalia, the development manager of Windows Graphics at Microsoft. This will be followed with the second session - "DirectX: Direct3D Futures" - by Max McMullen (Development Lead, Windows Graphics) later on the same day.
Another key point of interest is that four leading graphics chipset makers including AMD, Nvidia, Intel and Qualcomm have announced their support for the next-gen DirectX 12 technology.
It is not much of a surprise that the aforementioned graphics chipset makers are holding their forte to support the future of gaming technology with reduced CPU overhead and enhanced graphics performance.
The catch here is that AMD is reportedly developing the Mantle API with its focus at better scaling and reduced CPU overhead. As far as functionality is concerned both the DirectX 12 and Mantle API are expected to serve the same purpose.
Valve's recent release of SteamOS poses a serious threat against AMD and Microsoft, while the two tech giants fight for supremacy in the gaming market.
Consequently, Microsoft is on a comeback trail to silence its critics as the aging DirectX 11 has been sidelined with stiff competition from AMD's Mantle API and Valve's SteamOS.
Here is Microsoft's defiant message conveying the rebirth of DirectX platform through its plans to unleash the next-gen DirectX 12 at GDC 2014:
"You asked us to bring you even closer to the metal . . . so that you can squeeze every last drop of performance out of your PC, tablet, phone and console. . . Come learn our plans to deliver."
Release details for DirectX 12 are still undercover while some sources suggest that it will coincide with a new Windows release, probably Windows 9. Nevertheless, we could expect the new platform to be close to the metal API, as revealed by Microsoft in the above press statement.