Rockstar Games recently released a new content update (aka Business Update) as part of 1.11 title update for Grand Theft Auto (GTA) Online. The newest title update includes a host of bug-fixes to patch-up existing exploits including several money and car duplication glitches, besides adding a new set of race cars, special high-powered weapons and an ensemble of high-end attire.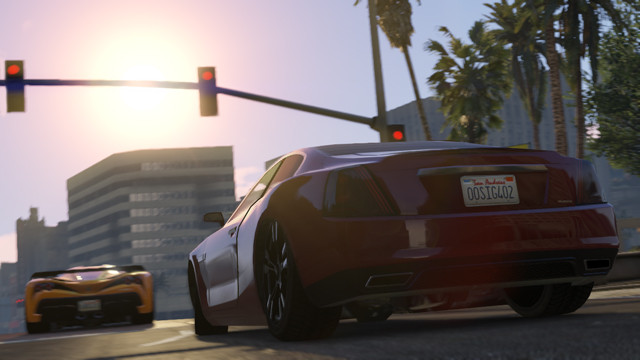 The Business Update is now available for download via PlayStation Network and Xbox Live platforms. Those who have installed this update can now enjoy three new blazing fast cars from Legendary Motorsport, which includes Albany Alpha, Dinka Jester and Grotti Turismo R.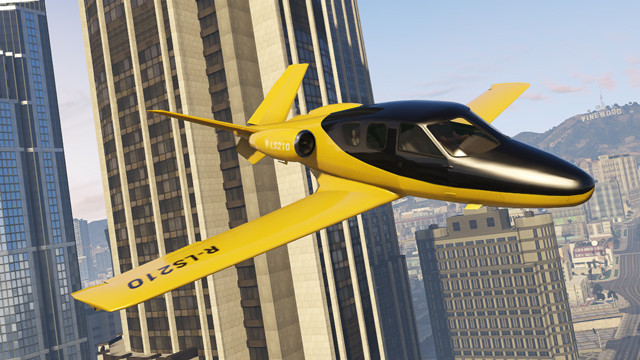 Discerning gamers who prefer luxury travel across Southern San Andreas by air can now order the new Vestra luxury jet by looking up Elitas in-game. Prepare for a high-octane online mission as you gear up your arsenal with a new array of high-powered weapons from Ammu-Nation including the Heavy Pistol and Special Carbine (automatic rifle) as part of this new update.
Give yourself the executive class attire with new business shirts, suits, vests, skirts, hats and more through a rich wardrobe of clothing and accessories being introduced with the update.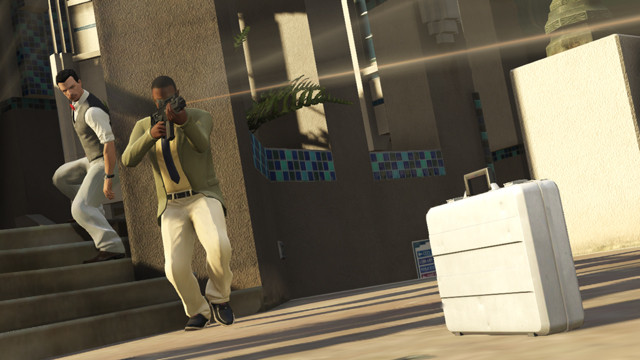 Choose to indulge in 14 new challenges including four new Land Races created especially for super-sports cars. Participate in Los Santos Air races on your newly acquired Vestra jet plane as you enjoy the scenic beauty around the city.
Immerse yourself in a new series of vehicle deathmatches featuring the Buzzard and the Rhino tank, besides a new Last Team Standing in Little Seoul, a two team Capture at Los Santos City Hall and a new survival challenge around the Maze Bank Tower.
Alongside the Business update, Rockstar has released numerous bug-fixes and tweaks to improve the online version of GTA 5. Some of the noteworthy fixes are as follows:
The ability to disable slipstreaming in Races is added.
It removes the ability to use nitrous boost exploit
It patches up an exploit that allowed players to transfer vehicles from Single player to multiplayer.
The ability to sell a vehicle soon after purchase, for a much higher price is now fixed.
Numerous vehicles have been added back into the game for storing in player garages: Karin Rebel (Clean), Beater Albany Emperor, Bravado Bison versions, Bravado Rumpo, Vapid Speedo, Canis Seminole.
Fixes an exploit wherein players could repeatedly kill enemies in missions without completing the mission for illegitimately earning quick Reputation (RP) points.
The glitch wherein player's vehicles randomly went missing from the garages is now fixed.
Fixed several exploits where players were able to duplicate vehicles.
Fixed an issue where a player's vehicle was damaged when it was driven into a garage.
Fixed an exploit where it was possible to set bounties on idle players in Deathmatches.
Fixed an exploit where players were able to sell free DLC vehicles.
Fixed an issue where custom vehicles could sometimes be used in locked UGC races.
Fixed an issue where it was possible to receive no Cash or RP for finishing first in a Parachuting Race.
Fixed an exploit where players could teleport into locked vehicles.
Check out the complete list of bug-fixes ported into the new GTA 5 1.11 patch via Rockstar support page.
How to Install the New 1.11 Title Update or GTA 5 Business Update
Ensure your PS3 or Xbox 360 console is connected to internet and launch GTA 5.
Wait for the prompt to download and install the automatic update via PSN or Xbox Live (Xbox 360 users need to download an additional compatibility pack).
Now go to in-game store via the game's Pause menu. Now select the Business Update and click download.
NOTE:The new vehicles and high-powered weapons in the Business Update will also be accessible via GTA 5 story mode. All three new cars will be available through Michael, Franklin or Trevor's garage properties, while the weapons will be accessible from the inventory of all three characters and loaded with two full ammo-clips.
[Source: Rockstar Newswire]