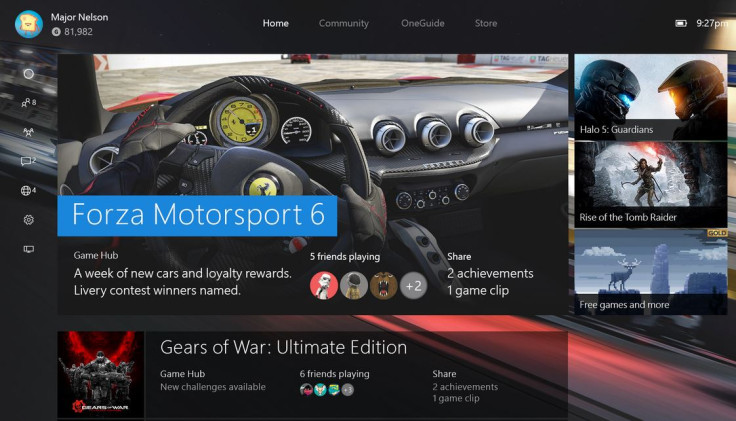 Microsoft is all set to launch the new Xbox One Experience powered by Windows 10 in November. Along with the ability to play Xbox 360 games, this significant update to Xbox One brings a host of features such as a redesigned Home, new guide, Community section, revamped OneGuide and more.
But before the public release, Microsoft will make it available for the members of Xbox One Preview Program to offer an opportunity to get early access to the features. To help the members, the company has further provided details to opt-into the preview.
The update will be rolled out first to those preview members who have submitted the most feedback. It will not be available for everyone at a time. After receiving feedback from the members, the update will be pushed out to larger groups.
Those opting in for the preview update will receive an invitation first via an Xbox Live message. From the invitation, launch the Xbox Preview Dashboard and select registration option. Select "Preview-New Xbox One Experience" to opt in.
In case you don't want to be a part of the preview update, you will still receive regular Preview Program updates. Microsoft will push out frequent preview builds featuring improvements and bug fixes over the next few weeks. Mike Ybarra, the director of Program Management for Xbox has offered some sneak peeks into what you will get in November with the rollout.
What you will get in November
You will be able to play more than 100 Xbox 360 games on Xbox One including the additional Xbox One features such as screenshots, streaming and game DVR. You can even play multiplayer with your friends.
With the new Guide, which can be accessed from the Home by pressing left or double tapping the Xbox button on the controller, you can access Friends, start a Party, get to Settings, see System Notifications, view Messages directly from Home, without leaving the game. You should be able to enjoy a faster and easier interface to access games and apps. You can share with the Xbox Live community, check what games your friends are playing and access to Game Hubs to get updates from the developers and community.
There is a new Community section that will help you to know what other gamers are doing on Xbox Live.You can also view popular posts from players. With the revamped OneGuide, you can see the list of trending TV shows on Xbox. There is a picture-in-picture mode for TV allowing you to browse for what you want to watch. Finally, the enhanced Store, which can be found next to OneGuide, including features to explore Games, Movies & TV, apps and Music, along with a new vertical gallery view to show more listings.