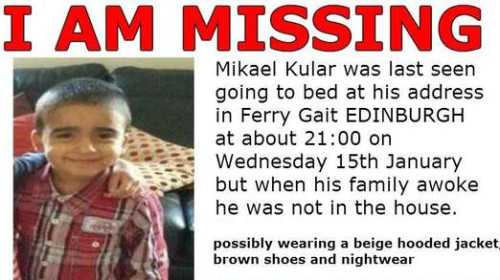 Police in Edinburgh said they might have a lead in their hunt for missing toddler Mikaeel Kular who disappeared from his home on Wednesday night.
Members of the public reported seeing Mikaeel on Thursday morning at around 8.30am, near to his home in West Pilton Gardens.
Volunteers have been scouring the streets for the missing three-year-old who was last seen when his mother put him to bed.
Rosdeep Kular realised that her son was missing when she went to wake him at 7.15am on the following morning. His jacket and shoes were missing.
Police Scotland said there had been a "potential sighting" of Mikaeel.
A major ground, air and sea search was under way as temperatures plunged to just above freezing.
Police activated the national Child Rescue Alert system (0300 200 0200) in a bid to help find the missing three-year-old.
Supt Liz McAinsh said that CCTV footage had confirmed the time of the sighting, but not the identity of the child.
"Since Mikaeel was reported missing, we have been contacted by a number of people with information which we have been working to assess and respond to," she said.
"The witnesses were in a vehicle driving down West Pilton Gardens at the time they saw the boy. They described seeing a small boy running towards the junction with West Pilton Park.
"They noticed him because he was small in build and alone at the time.
"They said he matched the description given of Mikaeel although they also reported the child they saw was wearing a cap or hat."
Police have issued a new picture of Mikaeel in the coat he was believed to be wearing when he went missing. It shows Mikaeel in a beige Park-style coat while playing with a toy tractor.
He is described as being of Asian appearance, 2ft and slim. He may have been wearing black gloves with multi-coloured fingers, dark navy blue jogging bottoms and a grey pyjama top with an embroidered turquoise dinosaur on the chest.
Mikaeel may be wearing brown Clarks shoes with two Velcro straps. He has a faded scar on the bridge of his nose and a sore on the left hand side of his mouth.