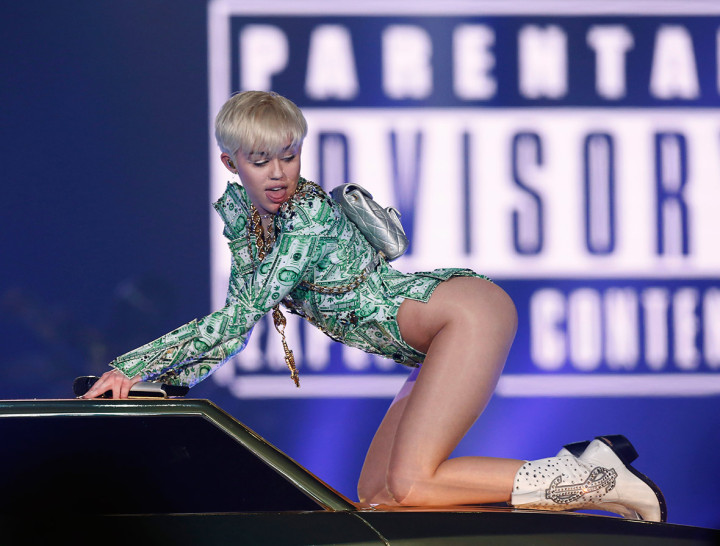 Miley Cyrus is in trouble again for her outrageous on stage antics.
The singer is accused of desecrating the Mexican flag, an act which could see her facing potential jail time.
The 21-year-old was performing at her Bangerz show in Monterey, Mexico, on Tuesday night (16 September) when, during her customary twerking performance involving an oversized prosthetic bottom, she got down on her hands and knees as a male back up dancer whipped her rear with a Mexican flag.
The incident which took place during Mexican Independence Day left officials in the country outraged by Cyrus's disrespectful behaviour.
The crime of desecration of the national flag carries serious consequences with a $1200 fine and up to 36 hours in jail time.
The state congress of Nuevo Leon are reportedly keen to prosecute the We Won't Stop singer.
The controversial star has continued to shock with her outrageous onstage performances as she takes her show around the world.
Most recently, a government commission that oversees public performances in the Dominican Republic banned her September 13 concert in the country on the grounds of immorality.
The commission said in a statement that it took the action because Cyrus often "undertakes acts that go against morals and customs, which are punishable by Dominican law."
And even NBC is under fire for broadcasting a gig from the singer's Bangerz tour on July 6 after viewers complained about her suggestive choreography, scantily-clad dancers wearing stripper costumes and sequences of Cyrus writhing around in a bed with semi-naked men and women.