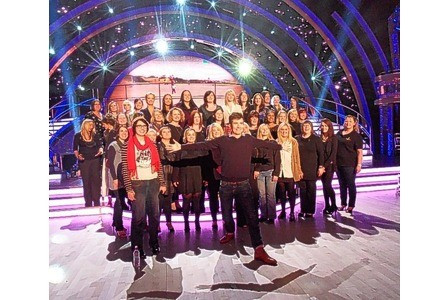 The Military Wives charity single is marching towards the Christmastop slot after becoming the fastest selling single for six years, outselling the debut single for X Factor winners Little Mix.
The choir, which was put together by Gareth Malone and is made up of the wives of soldiers in the Armed Forces, have now become the bookies favourite to bag the Christmas number.
It was revealed that the wives had sold 242,000 copies of their single 'Wherever You Are up' within hours of its official release, shifting 100 copies to every one of Little Mix's single 'Canonball'
Even though the girl group are currently at the top of the charts, it is looking very unlikely that they will still be able to maintain the top spot by Christmas Day.
They have lagged behind other X Factor winners substantially with record sales with figures showing that they have sold worst that any X Factor in the first week since since the shows first series in 2004.
Even media Mogul Simon Cowell appeared to admit that Little Mix would soon face the eminent defeat yesterday on Twitter.
Just as bookmakers Ladbrokes closed betting on the Christmas No 1 slot, he tweeted: Congrats to Little Mix & congrats to Military Wives. It's a great cause & a worthy Christmas No 1.'
The track has also been championed by online retailer Amazon who said the Military Wives were 'streets ahead' of their rivals.
The Christmas No 1 will be announced in a special Top of the Pops on BBC1 at 2pm on Christmas Day.