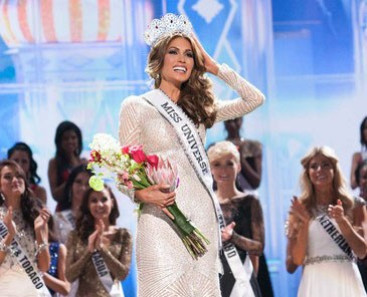 Miss Venezuela was crowned Miss Universe 2013 at Moscow's Crocus City Hall, beating 85 other contestants.
The coveted Diamond Nexus crown was handed over to her by last year's title holder, Olivia Culpo of USA. For the next year she will travel around the world, representing the Miss Universe Organisation and a charity of her choice.
During the interview question, she was asked about her biggest fear and how she plans to overcome it.
"Fear is not negative. We should overcome all our fears and this in turn would make us stronger. As soon as we overcome our fears we can face any challenge," she replied.
Miss Spain Patricia Yurena Rodriguez was the first runner-up and Miss Ecuador Constanza Baez the second runner-up. Much fancied Miss Philippines failed to win a place among the top three.
The top ten semi-semi-finalists included Great Britain, India, USA, Ukraine and Dominican Republic. Beauties from Costa Rica, China, Indonesia, Puerto Rico, Nicaragua and Switzerland had made to top 16.
The judges for the spectacular finale were Chef Nobu; gold medalist skater Tara Lipinski; television personality Carol Alt; supermodel turned actress and author, Anne V; one of the pageant's sponsorers, Farouk Shami; Italo Fontana, pioneering designer of U-BOAT Watches; the iconic russian pop-star, Philip Kirkorov and last but not the least, Steven Tyler, Aerosmith's front man and lead singer.
There was also stunning musical performance by Grammy-nominated band Panic! At The Disco and international recording artist EMIN.
Miss Nicaragua Nastassja Bolivar had won the national costume contest held on 3 November at Vegas Mall in Moscow. Miss Philippines Ariella Arida, who came fourth in the finals, had bagged the top prize for the photo shoot for Italian lingerie brand, Yamamay, taken by New York-based Fashion Photographer Fadil Berisha.