Police searching for missing Hanwell teenager Alice Gross have turned their attention to Elthorne Park in west London.
The 14-year-old has not been seen since CCTV recorded her walking along the canal towpath under Trumpers Way Canal Bridge in Hanwell, heading towards her home.
Detectives are hunting convicted Latvian murderer Arnis Zalkalns, who went missing shortly after Alice's dissapearance and was seen on CCTV cycling along the same path as the teenager shortly after she did.
A Metropolitan Police Service statement said: "As part of the ongoing search operation we have identified an area that is currently being assessed.
"It will be subject to further examination to determine if it is relevant to this investigation. The area of interest is in Elthorne Park."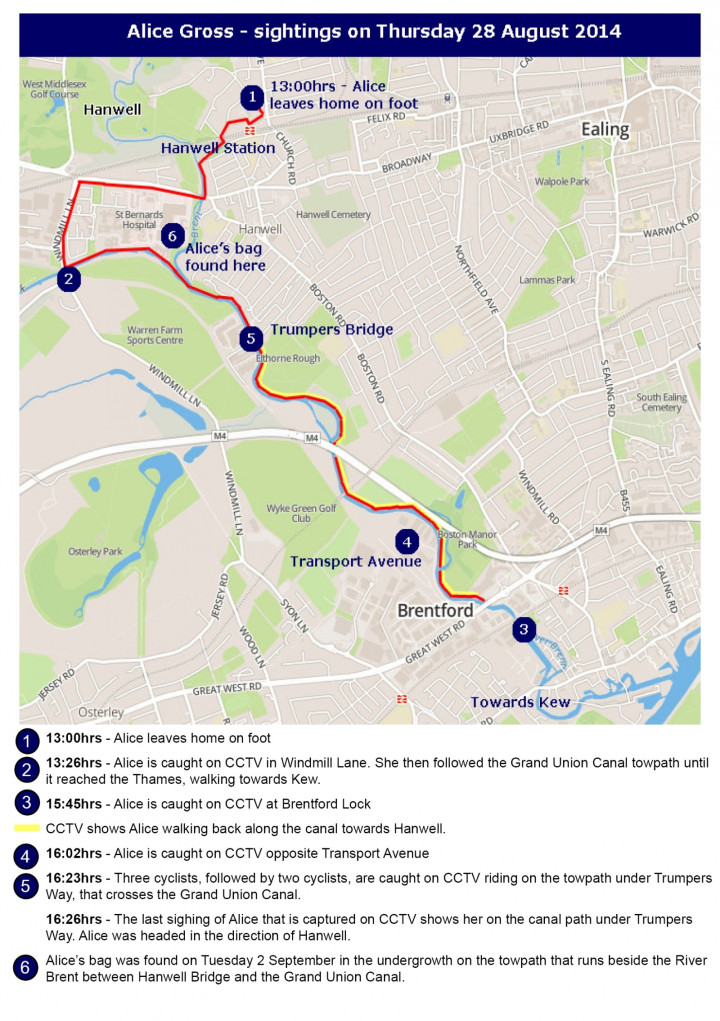 Six hundred officers are taking part in the investigation to find Gross, the largest effort by the Metropolitan Police since the 7/7 terror bombings in 2005.
They are searching a nine-mile area, including three miles of water. A £20,000 reward has also been offered for information leading to Alice's discovery.
The school girl's family have led calls for her return.
"Alice has been missing for four weeks now. We are desperately concerned about her welfare and worry constantly about what may have happened to her," they said in a statement.
"We are appealing to Alice. If you are out there, to come home where you belong. We love you and we miss you. We want to see your smile again, we want to hear you sing again, to see you cuddle Peggy, or sit at the piano. We want to be a family again.
"The whole family, all your friends, the community and the police are united in trying to bring you home.
"We are also appealing to anyone out there who knows anything about Alice's disappearance or where she is to come forward now.
"We cannot believe that Alice is not at home with us and every morning brings new agony. We dearly love our daughter and Nina dearly loves her sister.
"Please, please help us."
UPDATE: Police have confirmed the area was identified by the search team as disturbed earth and police dogs were deployed.
A full assessment has now been carried out, which has determined this area is not of relevance to the investigation into Alice's disappearance.