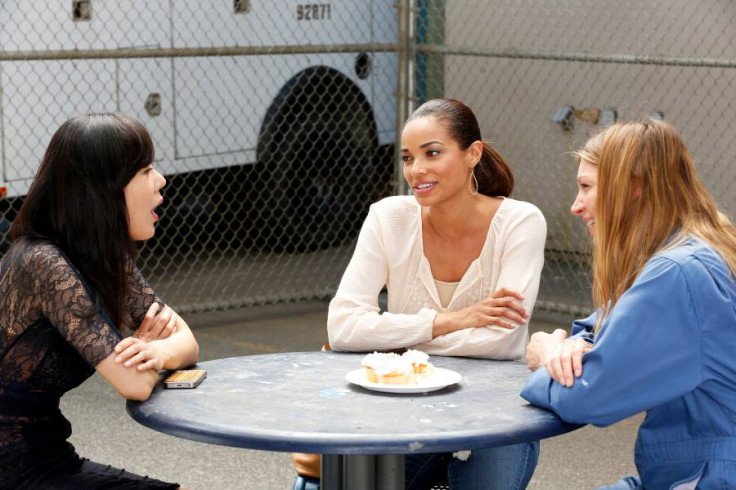 Mistresses season 3 finale will air on 3 September and will end on a cliffhanger. With just one episode to go for the season 3 final episode, the drama surrounding Joss and Calista's alleged involvement in Luca's murder is heightened.
Executive producers KJ Steinberg and Rina Mimoun dished on the season 3 finale and teased a painful cliffhanger for Joss. KJ Steinberg told TVLine, "It'll be a very tantalizing ending. Again, some story arcs will be satisfied and somewhat closed, and some things will be very cliffhanger-y."
"Just wait for Episodes 12 and 13," urged Steinberg, adding, "You can't draw conclusions yet. Nothing's ever too crazy for Mistresses!" Luca's murder mystery will be resolved in the finale, with Steinberg teasing, "But we promise you [in the end], the story will be satisfying, and liberation will be sweet."
Mimoun also talks about Karen's unexpected pregnancy and dished if a "throuple" relationship could work for her, Alec and Vivian. "I'm not ready to say that there aren't polyamorous people out there who haven't figured out how to make it work, but I don't know that part of the world very well. What we do know is our Karen, and we know all the dangers of her particular life story," she added.
"She is certainly not one who can handle that level of relationship. So I think we knew that about her, but wanted to explore it," Mimoun teased. The executive producer also dished on season 4's hopes of renewal. Rina Mimoun said, "We have no idea ...I mean, the reality is the move to Thursday night hurt us a little bit in terms of our live numbers, but our DVR numbers have been really strong."
"We're the last to know. We were the last to know we were going to [move production to] Vancouver. We're the last to know if we're coming back, but it keeps us on our toes. But we haven't heard. We don't know anything," Rina added.
Steinberg echoed similar sentiments and added, "We're the last to know, Slezak!" Mistresses season 3 finale episode is titled Goodbye Girl, and the official synopsis reads as follows: