Mistresses season 3 has returned with a lot of drama and hookups and also addresses the exit of Alyssa Milano's Savi.
In the two-hour premiere episode, Alyssa Milano's Savi flees the country after she catches her sister Joss making out with her ex-husband on the beach in the season 2 finale. Savi cuts all ties with her sister via a text message which reads, "you are no longer my sister."
Joss confesses to her fiance Scott, about her feelings for Harry, which leads to Scott punching Harry for making out with his almost-wife. Later, Joss tells Harry she wants him, but not then or like that.
But the synopsis released for the upcoming episode says that Joss will struggle with her feelings for Harry.
Alyssa Milano's replacement Jennifer Esposito, who made her debut in the season 3 premiere became an instant hit among fans.
Esposito plays the role of the "uber-fabulous and larger-than-life" Calista Raines. We meet her as she bribes a hotel receptionist to give her access to the hotel room of her husband, who she thinks is cheating on her, although she fails to catch him in the act.
She meets Joss after stealing her parking spot, then offers her a lift to a lot where her rental car's been towed. It turns out, she wants to prove her man's infidelity — so she can divorce him without losing half of her self-made fortune.
With Savi gone, Joss may find a friend in Calista, as the episode 3 synopsis talks about Joss helping Calista out of a "business bind."
Episode 2 is titled Odd Couples, which will air on 25 June, 9pm on ABC network.
The full official synopsis is given below:
Karen receives a house call from Alec after her medical procedure proves to be more painful than expected. Paul's past transgressions continue to haunt April. When the insurance company demands that she pay back the insurance settlement, April turns to Savi's old nemesis Toni for legal counsel. Meanwhile, Marc helps her through the crisis by revealing a secret of his own. Will this secret scare her away or bring the duo closer together? Joss helps Calista out of a business bind, and a little distraction is exactly what she needs as she struggles with her feelings for Harry, on "Mistresses,"
Alyssa Milano exit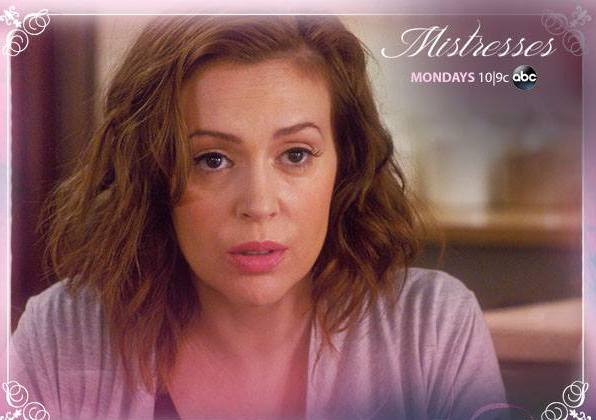 Although Alyssa Milano may no longer be part of the ABC show, her character Savi will always be a part of the fabric of the show claims Mistresses' executive producer Rina Mimoun.
Milano's character has been written out of the show ever since the actress announced her exit from the series back in October.
Mimoun told The Hollywood Reporter "We like to answer this question somewhat cryptically in that Savi is very much a strong presence, especially in the two-hour season premiere.
"And since she is the sister of one of the main characters, she'll always be part of the fabric of the show - whether or not Alyssa is part of the fabric of the show."