A group of British fathers with backgrounds in IT, security, and law have teamed up to create an Android app that is capable of proactively controlling which apps children download onto their smartphones, as well as flagging and blocking questionable content received in SMS text messages and filtering out adult web search results.
MobileForceField is an app designed to help parents monitor and decide which social networking apps – such as Instagram, Snapchat, Facebook and Twitter – are suitable for their children and teenagers to use.
Costing £2.95 a month for tablets and £4.95 a month for smartphones ($4.49 and $6.95 in the US, €3.95 and €5.95 in Europe), the app is tied to a web portal, where parents can toggle switches to indicate which apps are allowed to be downloaded, and which are not.
How it works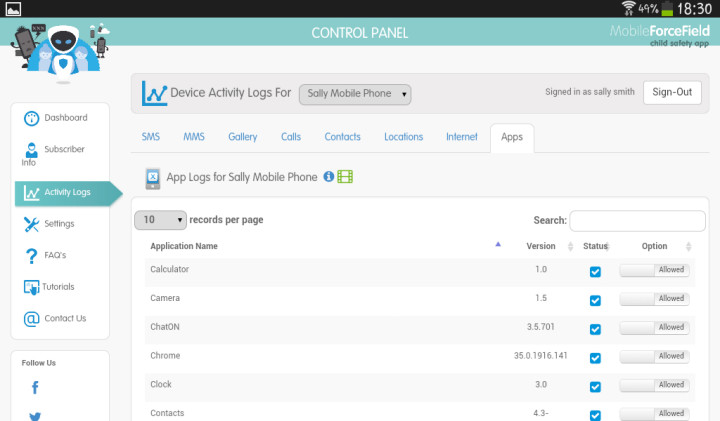 The MobileForceField app works in the background, taking control of the child's phone. It prevents children from downloading apps where permission has not been granted. If the Google Play app store is enabled, anything the child downloads will not work until the "Allowed" switch is toggled in the web portal.
In addition, the system also has filters connected to a cloud-based database of inappropriate and offensive phrases, so if the child is sent SMS text messages from a bully containing bad language and insulting content, the text message will be proactively intercepted and blocked, and an alert will be sent to the parent from the web portal.
All web searches using browsers on mobile devices are also filtered to prevent inappropriate content from showing up in search engine results.
The web portal also contains logs of the child's internet activity, recent calls and photos taken on their smartphone camera, but they are deleted after 90 days.
There is also the option to turn on geo-fencing, whereby GPS coordinates of the child's school and home are identified by the web portal, so if the child leaves school grounds in the middle of the day, the parent can be notified.
While this all sounds very big brother, MobileForceField's managing director Matthew Archer, who has experience in IT business management, disagrees.
Is this Big Brother?
There has been a spate of news in the last two years concerning cyberbullying, from teenaged girls being pressured into taking pornographic photos of themselves on Snapchat, to anonymous bullying on Ask.fm leading to suicides.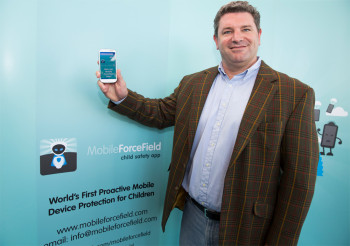 Two thirds of 701 teachers polled by YouGov recently said that they had witnessed school pupils bullying each other online, and UK police say that children as young as 11 are becoming victims of revenge porn.
"In companies and government agencies, [the IT department] has a duty to protect company data and protect adults from dubious content [like malware and spam] in the work place. I don't know why I would guard people at work, but not guard my own children," Archer tells IBTimes UK.
"We're not trying to sell fear or to restrict them, but we're trying to protect children from potentially dangerous things. Ultimately it's for parents to decide.
"There needs to be a conversation between parents and children, and the ability to change things for different points of view, and the different maturity levels of the children who use it."
Archer says that one of the problems is that many parents, especially if they are not tech-savvy, have no idea what kind of apps their children are using, for example Snapchat, where images sent between users "expire" and are no longer seen in the app after 24 hours has passed.
Positive action better than doing nothing
"We all thought when we were young, that we were equipped to deal with these things, but the experts say we are not able to deal with this content before the right time," says Archer.
"If a child views something traumatic, they can have a 'flashbulb memory'. The damage happens really quickly and the consequences are long lasting."
Although MobileForceField can take over a child's smartphone and monitor text messages sent and received, it is not able to block content within apps.
The next version of the system will however be able to highlight questionable content received by children in apps and alert parents, for example if a child receives an upsetting message on Ask.fm.
"Every single person we've spoken to, from child experts and psychologists, to cyber-bullying experts, MPs, the police and children's charities has been in favour of this," says Archer.
"Schools that are starting to give tablets to children are also interested in using this. Hopefully, our app will be a small part of the solution and help parents to take some positive action. When that's weighed against doing nothing, there's a strong case to do this."
MobileForceField is now available to download from Google Play on a free trial.