A mother whose son was killed in action in Afghanistan has today spoken of a moving letter of condolence she received from Prince Harry.
Cheryl Routledge's son, 21-year-old Corporal Liam Riley, was killed by an IED whilst serving with the Coldstream Guards Battle Group in 2010. The 3rd Battalion Yorkshire regiment soldier had trained with Prince Harry in Canada in 2007, when he was in the Blues and Royals preparing for the frontline.
Liam was killed in February 2010 after trying to rescue a colleague who had also stepped on an IED during a patrol near Gereshk. His funeral in Sheffield, South Yorkshire, was attended by 500 mourners with a 1,000 more gathering in the street outside to pay their respects to the fallen hero.
Mrs Routledge revealed that while her son and Prince Harry had not met since, they bonded during their three month posting. She said that as she struggled to come to terms with her loss, she was comforted by a letter personally written by Prince Harry.
While she has not disclosed the contents of the letter, Mrs Routledge said the young royal spoke fondly of Liam and also demonstrated empathy for her tragic situation, having suffered the loss of his mother Princess Diana.
"Harry said that although they had not known each other for long, some three months or so, he knew instantly that Liam was 'a legend' and what a great bloke he was. They said some fantastic times together in Canada," she revealed.
"He told me that he had an unforgettable smile, in fact he said he never stopped smiling the whole time he knew him. He talked to me about the pain he felt after his own mother died and how he came to terms with his grief.
"It was a beautiful letter, written from the heart, and something that touched me and brought me enormous comfort at the time. It is something I will always treasure," she said.
Mrs Routledge was able to thank Prince Harry in person for his heartfelt letter when she was introduced to him and his father Prince Charles, at a reception at London's Guildhall today following the service of commemoration for those who had served in Afghanistan, at St Paul's Cathedral.
Mrs Routledge told Prince Charles of her son's link to Harry and the birthday cake they shared, sent by the Prince of Wales.
"Liam was always very discreet about the time he served with Prince Harry but did tell me that when Harry celebrated his birthday out in Canada, Prince Charles sent him a cake and he shared it with them all. Prince Charles was very sympathetic and asked me about Liam. He appeared very touched to hear about the time he had spent with his son," she explained.
When royal officials became aware that Liam had been known to Harry personally, they arranged for his mother and grandmother, Grace Davison, 73, to meet with the prince in another room at the reception where he was greeting serving soldiers.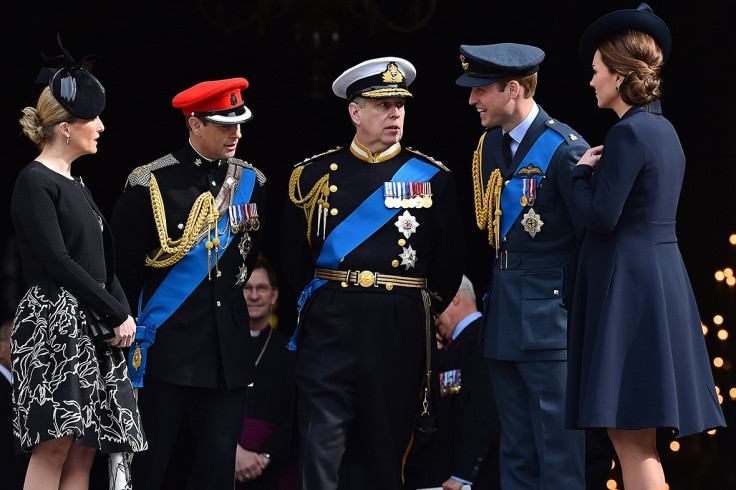 The affable young prince reportedly exclaimed: "How did you find me down here?"
Hugging Mrs Routledge and her mother, before posing for pictures, he said: "It is very good to meet you at last. When I said Liam was a legend, I meant it."
Mrs Routledge said the poignant meeting meant a lot to her. "I just wanted to be able to thank him for what he said about Liam. His words were a huge comfort to us all at a very difficult time," she said.
One thousand family members and servicemen attended the reception, held by the City of London, at which the Duchess of Cornwall, the Duke of Gloucester and the Duke of Kent were also present along with Prime Minister David Cameron.