Motorola Moto G 3rd generation (2015) review: Still the best budget handset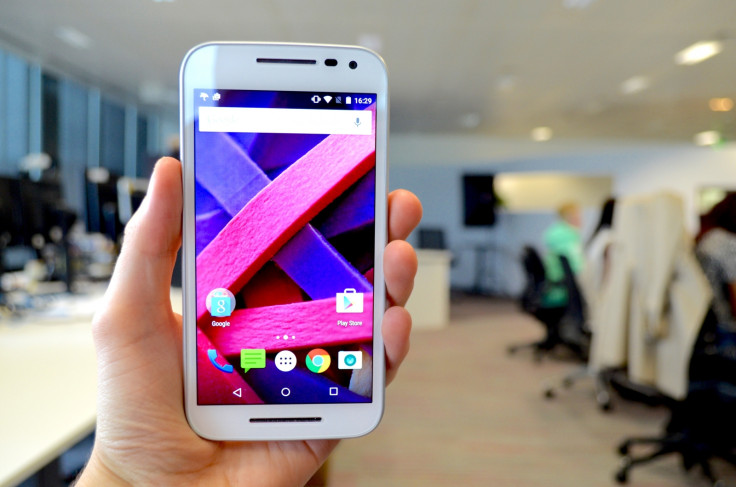 Key Features:
5in display (720 x 1280)
13MP/5MP cameras
Android Lollipop 5.1.1
4G
Quad-core 1.4GHz processor
Price: From £159
Moto G 3rd generation (2015) review:
Being asked what smartphone my friends, family and colleagues should buy next is an unavoidable byproduct of writing reviews for a living. For the past two years, the answer for anyone not wanting to splash out on an iPhone has been the Motorola Moto G. Announced in October 2013, the Moto G has always been fairly dull and with a price that never failed to excite and impress.
For its third outing the Motorola has worked to address the Moto G's dullness by offering it in a wide range of colours through the Moto Maker customisation website. Its price has crept up over the past 24 months, from £135 to £159, but the specification sheet has also taken a jump. Can the Moto G retain its budget crown for a third time?
Moto G (2015): Look and feel
In plain black or plain white, the 2015 Moto G would suffer from similar design setbacks as its predecessors – it just is not that original or recognisable – but with Moto Maker, there are a further nine colours to choose from, plus 10 different metallic accent colours for the panel housing the rear camera. Also boosting the Moto G's aesthetic game is a curved top edge similar to the more premium Moto X.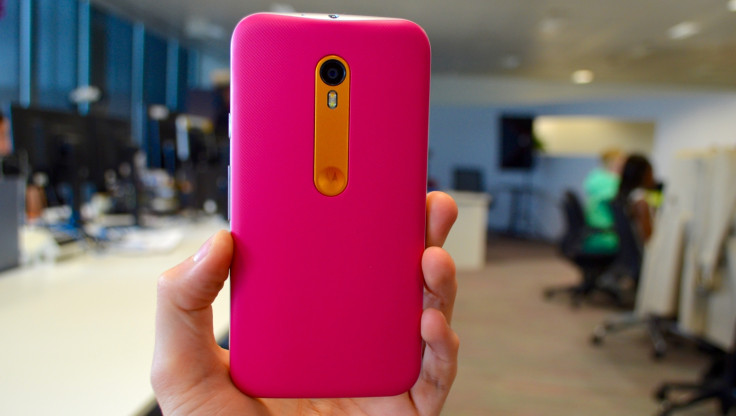 The phone's metal-look frame swoops down from the top edge and the metal highlight panel runs down from the camera, ending with the Motorola logo and a small recess. Both of these small details give the Moto G a much-needed injection of style and originality.
The rear cover is removable and in a first for the Moto G family, the phone features IPX7 water resistance, meaning it will survive a 30-minute plunge into clean water up to 1m deep. As with the 2014 Moto G, the plain front panel is home to two horizontal chrome lines covering the microphone and speaker. At 155g, this year's Moto G is similar to the 2014 model, and the 11.6mm thickness (tapering to much less at the edges) is about the same too.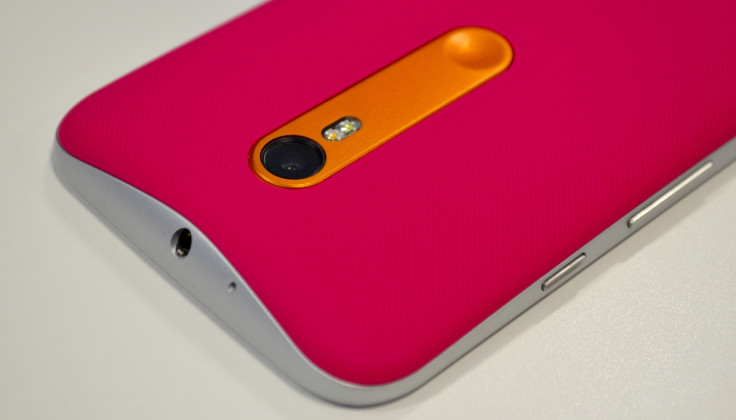 Whoever thought of sending us the white model with a pink and metallic orange back was clearly playing a cruel joke but the rest of the Moto G's appearance is perfect for a handset of this price, and the range of more acceptable colours and highlights available through Moto Maker only adds to the experience.
Moto G (2015): Screen
Motorola's reluctance to fit the Moto G with a Full HD screen is a shame. A 1920 x 1080 resolution would have been a headline-grabbing upgrade for the budget handset, but instead we have to make do with the same 720 x 1280 of the last two Moto Gs.
Screen size remains unchanged from 2014 at 5in, up from the 2013 original's 4.5in, and although quality is actually very good for the price, I wish there were a few extra pixels. Colours are bright and bold, and viewing angles are decent too, but there is a degree of fuzziness to some elements of the user interface.
Brightness is not quite on par with more expensive handsets such as an iPhone 6 but it is still surprisingly good. So too is the temperature of the display, meaning whites are neutral and colours are not too far in the cool blue or warm yellow ends of the spectrum.
Moto G (2015): Camera
This is all too often where sub-£200 smartphones trip up. But the 2015 Moto G shows no signs of its £159 price tag when we boot up the camera. Opened by shaking the phone twice from side to side (or by simply unlocking it and tapping on the camera app like a normal person), the app is surprisingly capable for the price. There is no shutter button (either on screen or physically on the side of the phone) because photos are taken by tapping anywhere on the screen; do this, and the phone focuses and works out the rest for you.
Using the app one-handed is easy because zooming is done by swiping a finger up or down the display, and the selfie and video buttons also fall neatly under your thumb. The 13-megapixel rear sensor comes from the Google Nexus 6, giving the budget handset the same photograph firepower as a phone three times the price.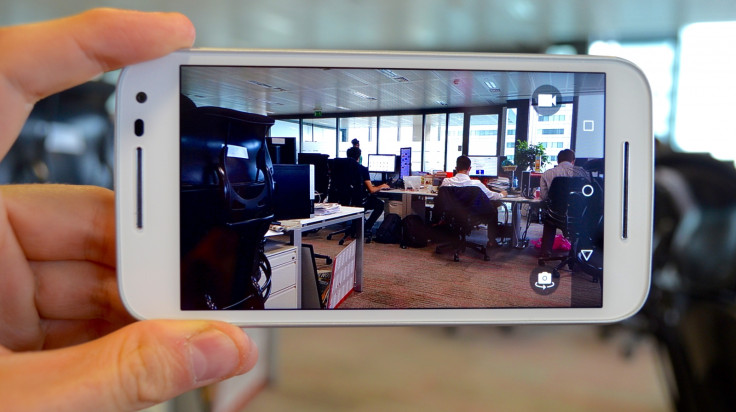 Photos are snapped quickly and have plenty of details; I was especially impressed by the lighting, which remained natural wherever I used it. The autofocus is capable of some good depth-of-field effects, but sometimes was a little sluggish to respond when I switched from shooting subjects near to far. The front camera has a 5MP sensor, making it one of the highest resolution selfie cameras out there; all-in-all, a job well done.
Moto G (2015): Software and performance
There is very little to report on the software front, and that's a very good thing indeed, because it means Motorola has had the common sense to leave Google's Android 5.1.1 Lollipop almost completely unmodified. Not only is that good news now, it means future versions of Android should come to the Moto G more quickly than rivals from HTC, Sony, Huawei and Samsung, which all run customised versions of Google's software, which take time to redesign after each update.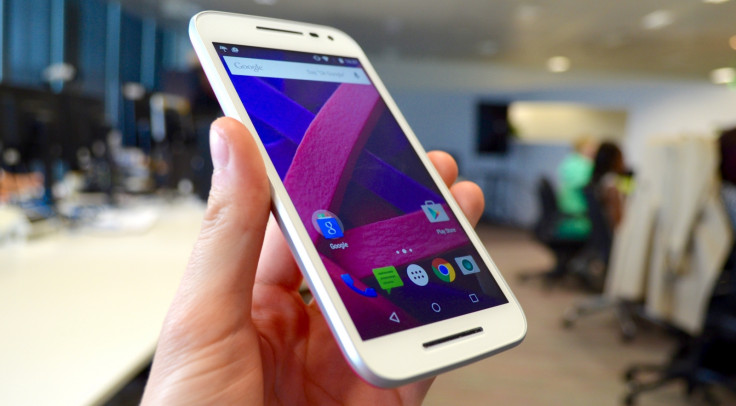 Onscreen buttons for back, home and multitasking mean you are slightly robbed of screen space in most apps – they are hidden while playing games, accessible with an upward swipe – and I'd rather seen them below the display. Otherwise I do not really have any complaints with the Moto G; bloatware is kept to an absolute minimum, with only Motorola's incredibly useful Migrate app supplementing Google's own application suite. Samsung and Sony, with their often superfluous pre-installed apps, have much to learn from Motorola in this regard.
Performance comes from a quad-core Snapdragon 410 by Qualcomm clocked at 1.4GHz and with 2GB of RAM. A lesser model with half the RAM (and storage, down from 16GB to 8GB) is what you get for the £159 starting price, while the model we reviewed costs £209 through Moto Maker. I would welcome more storage but at least a MicroSD card slot means both Moto Gs can be given an extra 32GB.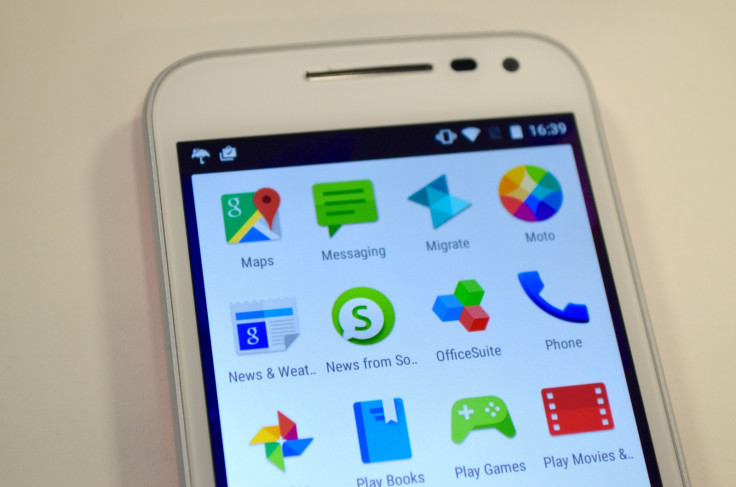 The Moto G feels quick and capable, even when playing demanding 3D games, although its graphics do occasionally stutter when pushed hard; it is not a deal-breaker, but something to be aware of, nonetheless. No matter how good this phone is, a high-end handset like the Moto X, Galaxy S6 or an iPhone is always going to perform better – but then they cost several hundred pounds more.
Battery life is pretty standard, with a full day of average use perfectly possible, but eking two full days out of the Moto G is difficult. Nightly charging, as always, is a must. One criticism I have on that front is the time it takes to charge. Plug in at 0% and it will take more than two hours to reach 100%; plugged into my MacBook Pro, it took almost a full day in the office, which is disappointing.
Moto G (2015): Verdict
I have hardly a single bad word to say about the latest Moto G. Motorola has for the third time created a handset which defies the notion that paying less than £200 for a smartphone is going to end in tears. A phone that can compete with rivals charging double, the Moto G rarely feels like it is lacking.
The screen could do with more pixels, but this would hamper battery life; the battery should charge more quickly, but this is hardly the end of the world, and... that is about it. Add a 32GB micro SD card and the Moto G is a hugely attractive option for those on a lower budget, while customisations through Moto Maker only sweeten the deal.
Motorola Moto G (2015) Scores
Screen: 8/10 - Bright and clear, the screen is good but an upgrade to Full HD would have been welcome
Design: 9/10 - Great looks and feel for a sub-£200 handset, with added customisation from Moto Maker
Build quality: 8/10 - Feels strong and sturdy, while water resistance is very welcome
Software: 9/10 - Android Lollipop almost exactly as Google intended it to be
Performance: 7/10 - Mostly good, but can occasionally feel sluggish when asked to do too much at once
Camera: 8/10 - Plenty of pixels for the price and great in varying light conditions, but autofocus is sometimes slow to react
Overall: 8/10 - An excellent handset with a starting price of well under £200. Even at £209 the 16GB model with Moto Maker is good value
The Good:
Price
Waterproofing
Moto Maker customisation
Camera
The Bad:
Occasionally sluggish
Lack of storage
Screen not Full HD
© Copyright IBTimes 2023. All rights reserved.