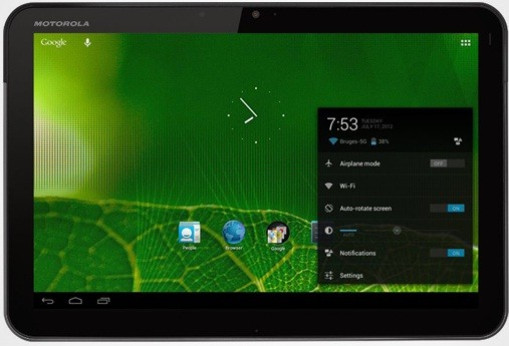 Motorola Xoom users with root access on their devices are in for a special treat, as they get the (stock rooted) JZO54K ROM based Jelly Bean update for download. The latest Android 4.1.2 update is not an official release, but a custom ROM firmware developed by XDA recognised developer stachre.
With due credit to the developer, the flagship tablet from Motorola is poised to get more stable updates to the firmware in the near future. As this is not an official update and is still in its nascent stages, the firmware may harbour some untested bugs or broken features, which will be addressed in the forthcoming updates.
Key Points to Remember
The JZO54K ROM and the instructions given in this guide are applicable only to Motorola Xoom tablet and will not work on any other device. Verify your device's model number by navigating to Settings > About Phone.
Back up important apps, data and settings to prevent data loss while installing the Android 4.1.2 Jelly Bean update on your Xoom tablet. PC suites should NOT be used for backing up data as they do not support the custom ROM firmware.
Disable Anti-virus and other security tools in your computer to ensure that the firmware update process is not interrupted in the middle.
Ensure that your phone battery is at least 85 percent charged to prevent unexpected shutdown (due to battery drain) while flashing the custom ROMs or installing the Android 4.1.2 Jelly Bean update.
Make sure that your Motorola Xoom tablet is rooted with custom recovery image installed on it. Download the Root Checker app from Google Play Store to verify if your device is actually rooted or not.
The instructions provided in this guide are for reference purpose only and do not cover any warranty claims involving device damage or issues arising out of using the JZO54K firmware update. Users are cautioned to proceed at their own risk.
How to Update Motorola Xoom to Android 4.1.2 Jelly Bean with JZO54K ROM
Download JZO54K Based Android 4.1.2 Jelly Bean Firmware Package from here to your computer. After downloading the package, just connect your Motorola Xoom device to the computer and copy the zip file to the root folder on your device.
Unplug the device from the computer and power off the tablet so that it can boot into recovery mode.
When the Motorolalogo splash screen pops up, press the Volume Down button to browse through boot options and then select Android Recovery. Now, tap the Volume Up button to boot into Android recovery.
In recovery, hit Wipe data/factory reset and click Wipe Cache partition. Finally, reboot your device by tapping reboot system now.
In recovery mode, you need to select Flash Zip from SD Card option. Then click choose Zip from sd card to select the Jellybean 4.1.1 zip file which you copied to your Motorola Xoom tablet earlier.
Once the device boots up, you can verify the same by going to Settings > About Tablet where it will show the current firmware version installed. If there is any other firmware, then it means that the firmware has failed to update.
Tip: If the device enters boot loop sequence or gets stuck at the welcome screen, just reinsert the battery and repeat the above instructions so as to complete the ROM installation successfully.
JZO54K based Android 4.1.2 Jelly Bean update is now successfully installed on your Motorola Xoom tablet.
[Source: Android Advices]