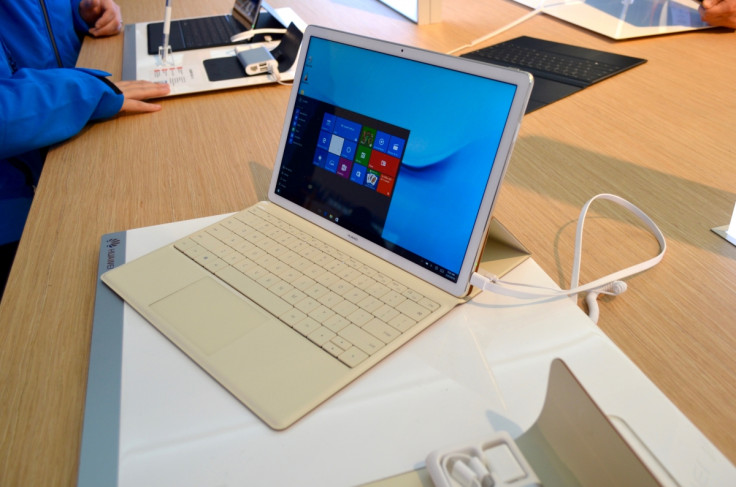 The Huawei MateBook will go up against the Apple iPad Pro and Microsoft Surface Pro when it goes on sale later in 2016. But one thing, as always, sets the Chinese company apart from its rivals: price.
Tipped to arrive in March – Huawei is just saying "the coming months" for now – the MateBook will cost approximately £620 ($699, €793) and has 128GB of storage. For an iPad Pro of the same size you would have to pay £180 more. But is the MateBook, Huawei's first attempt at a laptop, any good? We went hands-on to find out.
---
As with all recent Huawei products, the MateBook is a very attractive and well-made piece of technology. Like Apple, Huawei has managed to produce gadgets which have instant appeal and call out to be examined, picked up and used. The MateBook is a Windows 10 tablet which is sold alongside a keyboard dock and stylus.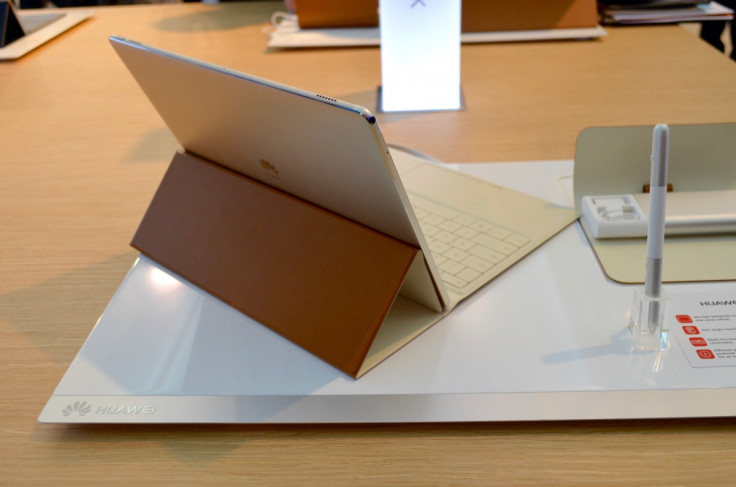 The 12in screen has a resolution of 2160 x 1440 and a pixel density of 216 per inch. This means the Windows 10 operating system looks lovely; sharp and details with good colour reproduction and a strong backlight. As with all Windows tablet/laptop hybrids, the high resolution can make some text and icons smaller than they are on a regular laptop or PC, but this isn't a deal breaker.
We'll put the MateBook through its paces more thoroughly when we get one into the office for review, but for now we can say the design is absolutely on par with the Apples and Microsofts of this world. An all-metal body, just 6.9mm thick, tips the scales at 640g, making it lighter than both the iPad Pro and Surface.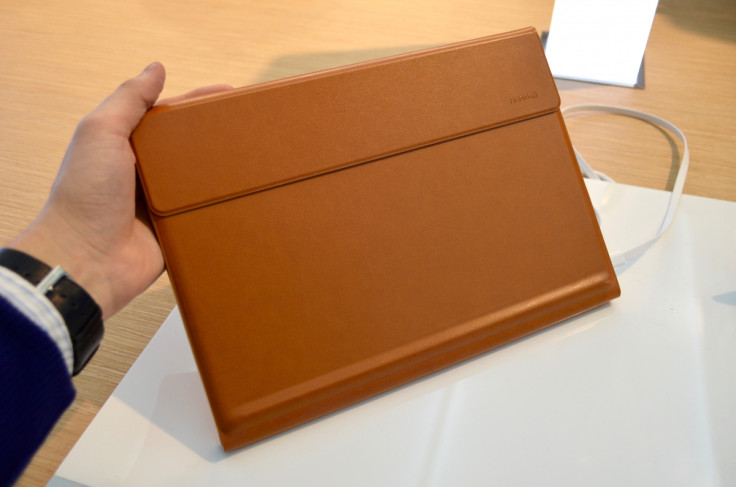 That tablet is available in black and silver; the former can be paired with a matching black keyboard dock, while Huawei pairs the silver model with a tan leather dock. That keyboard dock, sold separately for around £90, connects magnetically to the tablet and talks to it through a proprietary connector. The dock includes an (almost) full size keyboard, trackpad, and a folding cover which props the MateBook up when open (exactly like Apple's Smart Cover for the iPad) and wraps around the tablet to protect it when closed.
The way the dock wraps around feels better thought out than the Microsoft and Apple alternatives. When closed, the leather completely covers the front and back of the MateBook, giving it an executive, leather -bound look and feel guaranteed to grant it access to any executive meeting.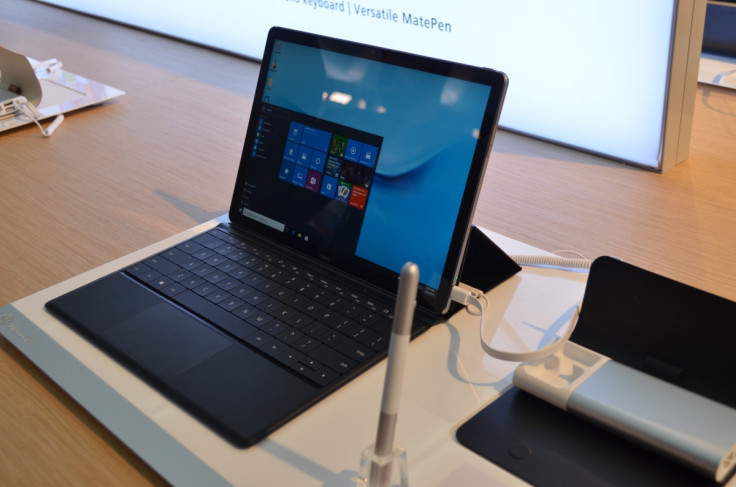 Even Microsoft and Apple have struggled to make a keyboard dock work as well as a laptop, and Huawei is sadly no exception to this trend. While the MateBook dock works well enough, we found ourselves more likely to reach out and touch the screen rather than navigate around using the trackpad. Vertical key travel is deeper than on the Surface (1.5mm vs 1.3), but there is no space between each key, as there is on the Surface's dock. Consumers will likely get used to this, but it could well put buyers off if they can't get used to the cramped Huawei keyboard quickly.
Finally, Huawei offers the MatePen, a stylus which will sell for around £40 and is designed to work with the MateBook. It has a tip with 2,048 levels of sensitivity and doubles as not just a Powerpoint clicker, but also a laser pointing for talking an audience through your slides. In case it wasn't clear already, the MateBook and its accessories are aimed as much at the business market as they are at regular consumers.
We were immediately impressed by the MateBook, and can't wait to spend some proper time with one to find out if it can really be the laptop replacement we are all looking for.