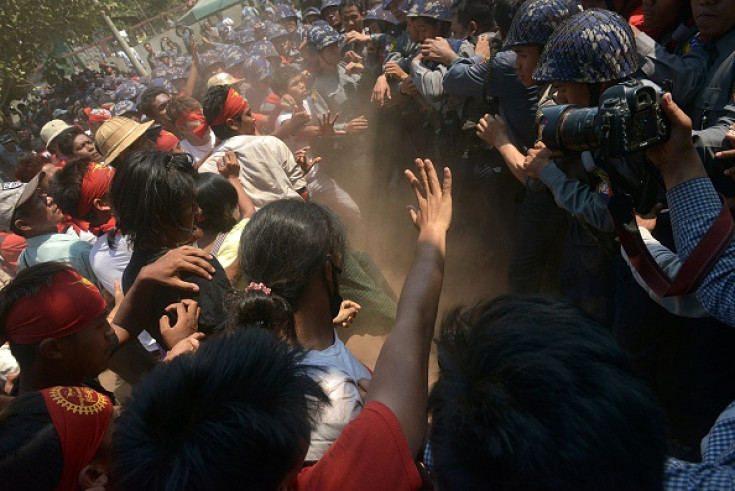 Myanmar police have beaten dozens of students who were protesting against a recently implemented law that they say curbs academic freedom, according to reports.
Demonstrators are demanding more freedom for universities and students, who are banned from forming student unions. The protests started in January and continued despite the government issuing a warning and accusing demonstrators of being led by political organisations that aim to overthrow the regime.
Clashes erupted on Tuesday (10 March) after more than 400 police formed human chains to block the road and the protesters tried to push their way through, AP reported.
Witnesses and AP photographers said police charged protesters with batons, kicking and beating them as they dragged them into trucks in the town of Letpadan. Some students suffered head injuries.
Several protesters were arrested, according to witnesses, and journalists were also targeted by police.
A student leader, Honey Oo, said police chased the protesters into the monastery, beat them and then dragged them away.
"Many have been beaten and some have been arrested, including many female students."
Police had already tried to stop demonstrations on 3 March, when they surrounded around 300 protesters in the town of Letpadan to stop them from proceeding with a march on the city of Yangon.
Many of the protesters chanted "we are unified" as they continued with a sit-in protest at a monastery compound, according to AFP news agency.
Police warned they would act to "restore law and order" if the students continued the march towards Yangon.
Water canon vehicles arrived at the scene, according to AP, as well as trucks filled with riot gear. No clashes occurred that day.
The demonstrations erupted a few months after Nobel Peace Prize winner and opposition leader Aung San Suu Kyi criticised the government for its lack of democratic reforms.