N-Dubz rapper Dappy arrested by armed police after 'threatening to stab officers in face'
University students 'pull musician off woman' during altercation outside Hertfordshire home.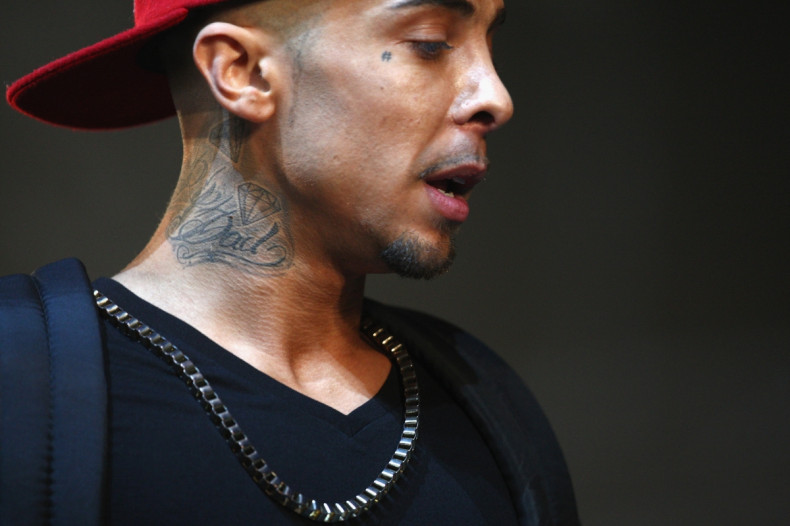 N-Dubz rapper Dappy has reportedly been arrested by armed police after allegedly hitting a woman with a tennis racket and threatening to "stab the Old Bill in the face".
Police were called to the star's street following reports of a violent row outside his family home in Hatfield, Hertfordshire, The Sun reported.
Dappy – real name Costadinos Contostavlos – is alleged to have attacked the woman with a tennis racket before being "pulled off her" by four university students as he screamed and spat at her.
When he learned someone had dialled 999, the 29-year-old Celebrity Big Brother runner-up reportedly shouted: "I'll stab the Old Bill in the face."
The incident on Wednesday (10 May) saw five armed response vehicles and two police patrol cars surrounded Dappy's home, with residents stopped from entering the street as officers believed he had a knife.
An unnamed neighbour told The Sun: "The police said there was someone with a weapon. Dappy and the girl were screaming and shouting and — when he heard that the police had been called — he shouted, 'I'll stab the Old Bill'.
"He had her pinned down on the driveway and was hitting her with a tennis racket. He was really laying into her and they were spitting at each other.
"Then four boys came along, I think from the local university. They looked like rugby boys and hauled him off."
The neighbour added: "Dappy disappeared and the next thing we saw was armed police pointing a gun at his door. Then there were three loud bangs as they rammed it."
It is understood Dappy was not in the property when police arrived. He was later seen returning to the home in a patrol car, The Sun reported, before being taken in a second car to a police station.
The star was questioned on suspicion of causing actual bodily harm (ABH) and possessing an illegal weapon, police said.
A spokesman for Hertfordshire Constabulary told IBTimes UK: "Police were called at 4.30pm on Wednesday, May 10 to reports of an incident involving a man and a woman.
"The man threatened the woman before leaving the scene. It is believed he had a knife. No one was seriously injured.
"A 29-year-old man was arrested in the local area around 6pm on suspicion of assault ABH and possession of an offensive weapon in a public place. He has been taken to custody for questioning."
Father-of-two Dappy formed N-Dubz with his cousin, former X-Factor judge Tulisa, and their schoolmate Fazer. The group went on to have a UK Number 1 and several other hits in the top 20s.