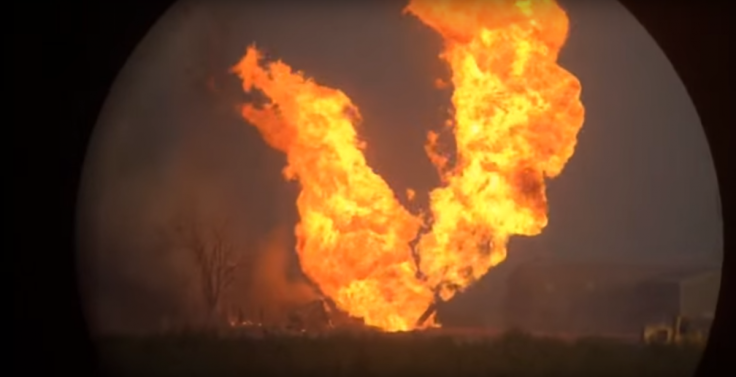 One person is dead and three others are injured after an explosion caused by a ruptured natural gas line exploded on Friday in rural Central California, sending flames 200ft into the air, local reports said.
The Pacific Gas and Electric Co. line was cut accidentally by heavy equipment in a farm field south of town around 3.30pm, Fire Captain Tom Ellison said. The pipeline was about 12ft underground when it was struck, but officials said that it is unclear what kind of work was being doing.
The operator of the heavy equipment died from injuries, Kern County fire Captain Tom Ellison told local news channel, KGET-TV. Those injured are reported to be suffering people received second- and third-degree burns on over 20%-30% of their bodies, the local ambulance service report.
"The fire burned so intensely," Ellison said. "Everything was gone. It was black."
The Pacific Gas and Electric Company line was about 12ft underground when it was struck by the heavy machinery around 3.30pm, said Ellison, but it was unclear what kind of work was being done.
Video from drivers on nearby roads showed two enormous horns of fire flaring into the sky.
The fire destroyed a nearby home, and Ellison said that the two people who sustained injuries were from the home. A child was also in the home, but not injured, Ellison said, adding that he could see the flames responding to the call from six miles away.
"My husband was driving home from work. He actually had to turn around because he could feel the heat from the fire," Bakersfield local resident Kristin Morgan told the station.
"The gas line was quickly shut down and the fire was out by 4.30pm," PG&E spokesman Jeff Smith said. He explained that the gas line was last inspected between 10-12 November, and that the company was previously notified of work taking place near the pipeline, but the notice had expired and there was no current notice.
Smith added that no PG&E employees were involved in the work that caused the fire, said Smith adding that no PG&E employees were injured.