Neal's Yard, Pret A Manger and the other high street brands cutting down on plastic waste
Beauty company Neal's Yard Remedies has become the first high street brand to offer free refill stations.
More restaurants, bar and pub chains are also cutting out single-use plastic straws.
The first UK high street chain has announced it will offer free water refill stations nationwide in an attempt to cut down on harmful plastic waste.
On Wednesday (24 January), beauty company Neal's Yard Remedies announced it would become the first chain to provide free water refill stations in all its stores across the country, cutting out the need for consumers to buy a bottle of plastic water if they have a refillable container. The decision was made in collaboration with campaign group City to Sea and its Refill campaign.
Pret A Manger is gradually introducing filtered water stations to its stores, starting with its Veggie Pret locations in London and then Manchester, but has a long way to go before the scheme is rolled out nationally.
The stores look set to pave the way for many more, as 20 fountains will be installed in London in time for this summer as part of a trial period which could see more spring up. Mayor Sadiq Khan's scheme is also due to include a bottle refill initiative with businesses offering free tap water.
It takes at least 450 years, sometimes even up to 1,000 years, for disposable plastic bottles to fully degrade. The UK uses around 38.5m plastic bottles every single day, of which only just over half make it to recycling plants rather than landfill, according to The Guardian.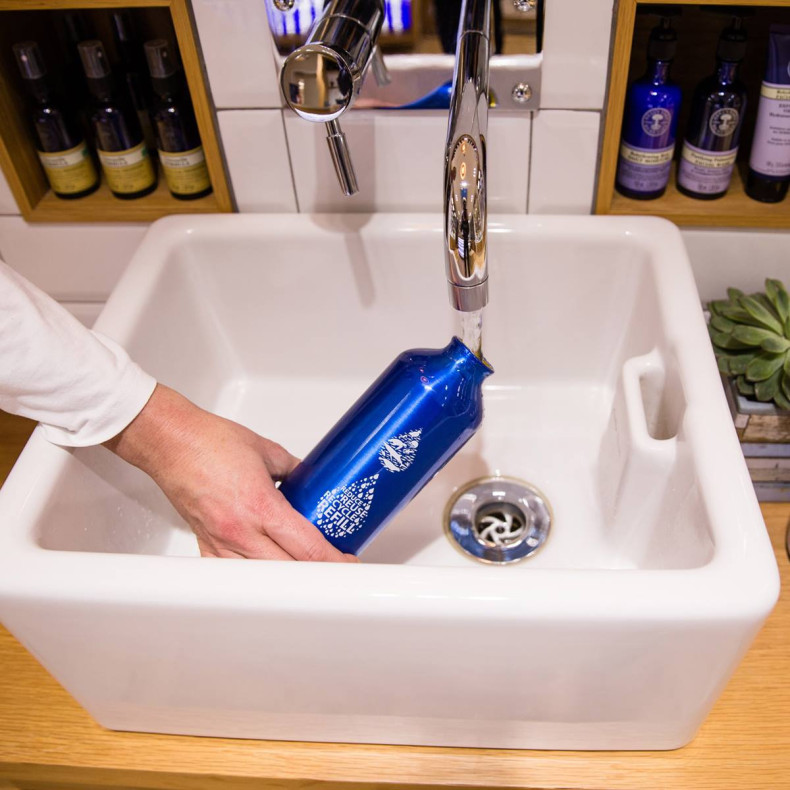 Wetherspoons led the way last autumn by announcing it was phasing out the use of plastic straws - it now only uses biodegradable paper straws. Pizza Express was the latest chain to announce it would cut out the use of single-use plastic straws. Costa Coffee, Wagamama, Leon, Bill's, Wahaca, Franco Manca, Pizza Pilgrims and Pret A Manger have recently made the same commitment with various biodegradable replacements on the cards.
Pub groups Young's, Geronimo Inns and Draft House are all getting rid of plastic straws, as are Novus Leisure, which owns the Tiger Tiger, Loop, Forge and Balls Brothers brands, and numerous London venues such as the Royal Albert Hall. Carluccio's, Nando's and Caffè Nero have reportedly said they are looking at introducing a plastic straw ban.
Fast food giant McDonald's has stated it wants 100% of its restaurants worldwide to recycle packaging by 2025, compared with just 10% now. This will include making all bags, straws, wrappers and cups from recycled or renewable materials, up from 50% currently.
Francesca DeBiase, McDonald's chief supply chain and sustainability officer, said customers' number one request was for the brand "to use less packaging, sourced responsibly and designed to be taken care of after use".
Some 70 million plastic straws end up in landfills or the ocean every year, and then into the bodies of animals, with whole straws even found inside the nostrils of turtles. It takes around 500 years for a single plastic straw to decompose.
Supermarkets are also beginning to tackle the plastic problem. Iceland has vowed to eliminate all plastic packaging used in its own-brand products within five years, making sure the replacement paper and pulp bags and trays are fully recyclable. The supermarket said that it carried out a survey which revealed 80% of 5,000 people would endorse the plastic-free policy.
Tesco wants to make all of its packaging totally recyclable or compostable by 2025, the Co-op wants 80% of its products to have easily recyclable packaging by 2020, and Asda wants all of its packaging to be recyclable by 2025.
Marks and Spencer said that 90% of its packaging in the UK was already recyclable and Sainsbury's wants to reduce its own-brand packaging by half by 2020 compared to 2005 levels. M&S, Aldi and Morrisons are all signed up to Wrap UK's Courtauld Commitment which aims to reduce waste in the UK grocery sector. Lidl recently told the BBC it was currently setting targets for cutting down waste.
Public consciousness around plastic waste has grown in recent months, with David Attenborough's Blue Planet II highlighting the issue of plastic polluting the oceans and proving deadly to animals. Recent estimates suggest that 90% of seabirds have plastic in their stomach, and that some eight million metric tonnes of plastic are dumped into oceans annually.
Prime Minister Theresa May has also unveiled a new environmental strategy aiming for Britain to eradicate avoidable plastic waste in the next 25 years. She announced plans to extend the 5p single-use plastic bag charge to retailers of all sizes, and mooted plastic-free aisles in supermarkets.