When Need for Speed Payback took the stage at EA's E3 2017 showcase event on Saturday (10 June), the first look at gameplay put a big focus not on racing, but on something that will be a familiar sight to racing game fans.
As the chase sequence starts, the player's car doesn't take long to ram one of the more aggressive cars off the road. Having done so, the camera pans away, the action slows down and we see the enemy vehicle crash in spectacular fashion.
This, of course, was a staple of Criterion's Burnout series of arcade racers. Nine years on from Burnout Paradise, the last game in the series, Burnout is understandably thought to be dead, but its spirit apparently lives on.
Such crashes, called Takedowns in Burnout, have appeared in Need for Speed before, but never with quite the same revelry.
The Need for Speed Payback footage put so much emphasis on these crashes, and showed them off so many times, that it was clearly a deliberate ploy. EA owns Burnout, and it isn't going to be bringing Burnout back any time soon, so its stylistic tics might as well go to good use.
There's another obvious influence on the game too: that of Hollywood's ridiculously-successful Fast and Furious movies. Wanting to create a video game equivalent makes perfect sense, and EA is better positioned than most with Need for Speed.
The ties between the two series stretch way back to Vin Diesel's pet projects even became a box office goldmine - back to the early noughties and Need for Speed Underground. It's with Payback that developer Ghost Games is taking influence from the more bombastic recent entries in the blockbuster franchise.
The series has suffered mixed fortunes since Criterion's own Need for Speed: Most Wanted in 2012, and EA has struggled to define what Need for Speed actually is, and its place in the racing genre.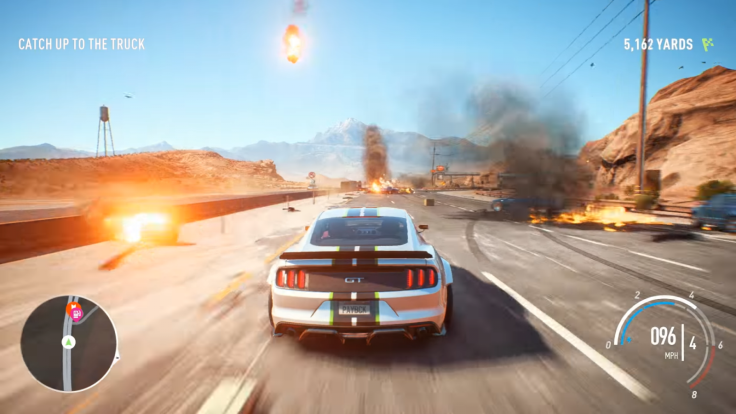 Payback's influences may be clear for all to see, but the new footage was most certainly effective in grabbing people's attention. It's been a long time since Need for Speed looked so exciting, even so much fun.
That, and given the fate of Burnout is so clear at this point, fans are more likely to be thrilled seeing its lineage continue than they are to be potentially angered by EA once again raiding Criterion's beloved series for ideas.
Burnout never had a story, and this is the big area where Need for Speed offers something different. Focused on three playable characters, who it seems the game switches between during certain set pieces, Payback is about their mission to take down a dangerous cartel.
This means high octane chases and set pieces like we saw at EA Play, and what better use of Burnout's flamboyant DNA? Here's just hoping the Need for Speed series has moved well past the live action elements of its previous entry two years ago.
Need for Speed Payback is set to release on 10 November for PS4, Xbox One and PC.
For all the latest video game news follow us on Twitter @IBTGamesUK.