American singer Neil Diamond has been honoured with the 2,475th star on Hollywood's Walk of Fame. The Sweet Caroline singer was accompanied by his wife, Katie McNeil and posed with his star, which is in front of the Capitol Records building in Los Angeles.
"We finally were able to pin him down for a date to dedicate his star. This is one busy man and we are thrilled to honor this legendary performer," Ana Martinez, the Walk of Fame producer, said.
Diamond was so thrilled about the whole thing he went back home and posted the following message, with a photo, on his Twitter page: "Superstar-shmooperstar. Katie still makes me take out the garbage. Haha!"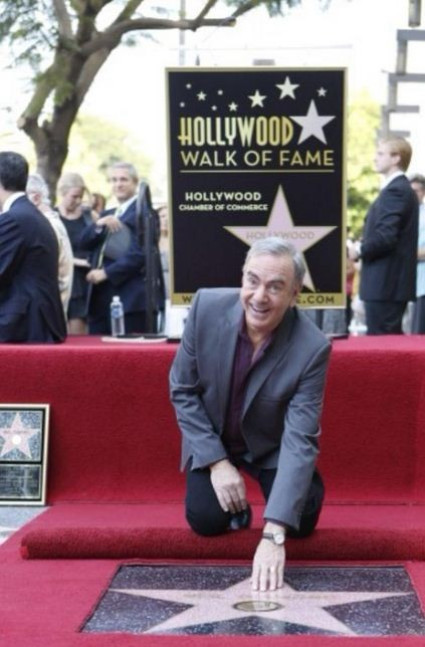 "This is probably the most fun. I didn't have to campaign for it. They wanted me. They opened their arms and took me in, and that makes it all the better," Diamond was quoted as saying in the Express. The Star was the icing on the cake for Diamond, who recently released a deluxed edition of his album Hot August Night to celebrate the 40th anniversary of the album's release.
Meanwhile, composer Randy Newman, who was present at the ceremony, praised the Welcome to America singer and compared him to BingCrosby and Judy Garland.
"He is one of those people, rare in entertainment, who America loves," Newman was quoted as saying in the Daily Star.
The 71 year old veteran crooner has sold more than 125 million records worldwide and has 16 Top Ten albums and 37 singles. The Grammy Award-winning musician has over 50 songs in Billboard Magazine's Hot 100 list of Most Heard Songs.
Diamond is also a Kennedy Center honoree, has been inducted into the Rock and Roll Hall of Fame, the Songwriter's Hall of Fame and is a recipient of the Sammy Cahn Lifetime Achievement Award. If all that were not enough, Diamond also has a Golden Globe, thirteen Grammy nominations and was named the 2009 MusiCares Person of the Year.
The singer is now on a summer tour and for more information on concerts and schedules, click here.