HMD Global's rebirth of the Nokia licence kicked into top gear at Mobile World Congress 2017, with a trio of affordable, "pure" Android smartphones, a family of health-based devices made by Witherings and, most importantly, a confident attitude that belies the former Finnish giant's recent history.
Part of that confidence also stems from its secret weapon, the new Nokia 3310. Nostalgia is a powerful tool and if the immediate reaction on social media anything to go by, there are plenty out there with rose-tinted memories of the original 17-year-old feature phone.
IBTimes UK went hands-on with the resurrected retro classic following HMD Global's press conference and here are a few key takeaways from the blast from the past.
Back to the Future
Despite a number of well-sourced leaks prior to its Lazarus-esque revival, the actual design of the new Nokia 3310 was still up in the air. Would it retain its exact bulky appearance and physical keys as before, or transition to a sleeker form factor?
The answer is somewhere in between, giving the 3310 a retro style without looking or feeling like a plastic relic. The most immediate change in terms of design is its bright colour palette (in classic blue and grey, as well as funkier new red and yellow shades) and the device's weight and thickness, coming in at 79.6g and 12.8mm thick, respectively.
By comparison, the circa-2000 Nokia 3310 was 22mm thick and weighed a hefty 133g. As someone who owned a Nokia 3310 all those years ago, I can vouch for the fact that the 2017 model resembles its predecessor enough to rekindle old memories without sacrificing usability.
This is partly thanks to the retained physical number pad and navigation buttons, although the lone "C" button, volume rocker and top-mounted power button misses out on the new model. A standard USB charger port on the top and headphone jack on the bottom are your lot of external ports, with a sim card, microSD card slot (up to 32GB) and removable battery (more on that later) underneath the detachable rear case.
Emperor's New Clothes
It's hard not to notice the huge changes in the screen and camera, however.
The 2.4in QVGA non-touchscreen display brings colour to the Nokia 3310 name and is a far cry from both its monochrome graphic grandaddy and the glitzy OLED, or even LCD, panels of today. It appeared sharp enough in our quick tests, with decent viewing angles, although it will be interesting to see how it holds up in bright sunlight.
As for the brand new 2 megapixel camera? Well, it takes photos, but don't expect iPhone quality. The tiny, grainy, heavily pixelated snaps will certainly look unique in your Instagram feed though.
The camera and the rest of the tiny suite of software features are accessed courtesy of the Nokia 30+ OS, which has graced Nokia's feature phones for several years. Contacts, call logs, messages, photos, a calculator and a certain mobile game (we're getting there) are all selectable in a 3x3 tile. An Opera web browser is also included, although as the phone is only a 2.5G affair and no Wi-Fi connectivity, video streaming or downloading large files is well and truly out.
But let's be honest, you are really here for Snake, right? From our brief time with it, we can only say that it isn't exactly the Snake you remember, nor the retro one that any Android or iPhone user can now access in Facebook Messenger's Instant Games collection. The principle of Snake Xenzia appears to be the same – gobble the dots, don't hit your tail – but it feels a lot slower and has an odd Tron-like grid underneath the cartoon reptile.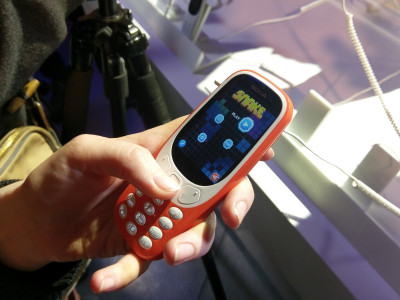 Return of the King or lost in time?
For around €40 (likely £49.99 in the UK), the new Nokia 3310 is exactly what you'd expect – a cheap and cheerful basic phone with a monster battery that surpasses its predecessor's legendary talk time (Nokia predicts 22 hours).
Its plastic design shines in its vibrant red and yellow shades, and as an exercise in pure nostalgia it is nigh on perfect. Who exactly the phone is for is another question entirely however, as the limited connectivity and rudimentary OS limits the appeal for a generation weened on Apple devices, and is entirely impractical for the twenty/thirty-somethings who grew up with the first 3310 who use advanced smartphone apps on a daily basis.
That being said, there's a delightful air of simplicity about the new Nokia 3310 that's hard to deny when holding it for the first time. While HMD Global's Android smartphones hold the key to Nokia's long-term prospects, the Nokia 3310 is a bright, bold statement of intent: the King is back, and it wants its crown back.