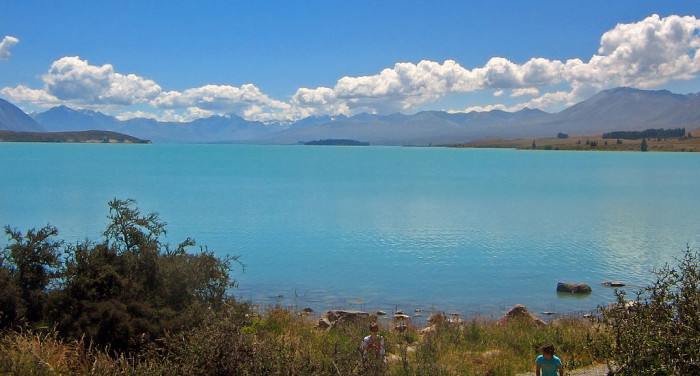 A British man has died in a kayaking accident at a popular tourist spot in New Zealand, according to the Foreign and Commonwealth Office (FCO). Another man also died in the accident on Lake Tekapo, South Island. Neither of the dead have yet been named, although local media are reporting they were thought to be in their twenties.
According to the New Zealand Herald the two men were among an 11-strong expedition of men and women who were kayaking in the lake. The weather was calm when they ventured out, but then they were hit by a sudden change in the weather including a 40k/hr wind.
"The boats were swamped and they were tipped into the water," said Mid-South Canterbury Area Commander Inspector Dave Gaskin. The water was about 3C at the time and it would have been much colder due to the wind chill factor. "Unfortunately we do get freak winds here," Gaskin told stuff.co.nz.
The man who rented out the boats called the emergency services when he realised the weather had changed. Rescuers including volunteers picked up the survivors, most of whom had made it to a nearby island. They are being treated for hypothermia, two of them in a serious condition. Gaskin paid tribute to local people without whom, he said, there could have been more fatalities.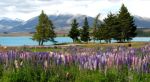 In a statement New Zealand police said: "Police can confirm that two overseas tourists have died tragically following a kayaking accident on Lake Tekapo this afternoon. The two were members of a group of young people who hired kayaks for a trip on Lake Tekapo.
"They ran into difficulty after venturing out on the lake and being swamped after an easterly wind picked up to an estimated 20 knots. After the alarm was raised, Lake Tekapo SAR personel, voluntary firemen and the McKenzie Lake Coast Guard, assisted by a helicopter, rescued nine people and retrieved the two bodies. All survivors were suffering from hypothermia and a small number required hospitalisation at Timaru Hospital."
Lake Tekapo is well-known among local people for its rapidly-changing conditions. In October 2009 three men drowned when their boat apparently crashed into a log. The lake is generally extremely cold because it is fed by nearby glaciers.