With just two episodes to go for the series finale, The Newsroom is ready to say farewell with the death of a major character, and several twists leading up to it.
The synopsis of the finale episode titled What Kind of Day Has It Been says, "A sudden death leads Will and Mac to ponder the milestones that transform the newsroom and look ahead towards ACN's uncertain future."
The important character whose death might impact Will and Mac is of news director Charlie Skinner (Sam Waterston).
Season 3 has been challenging for Skinner, as the debate between old school journalism and modern citizen journalism ensued, and gave him several stressful moments.
Right from the season premiere, being oldest member of the ACN team, he has struggled with the emergence of crowd-based journalism.
And now with the ACN's recent buyout at the hands of Lucas Pruitt, a young eccentric billionaire, things are only getting worse.
In a nut-shell, Pruitt plans to transform ACN into the kind of network that Skinner always loathed, a ratings hungry news-outlet.
Besides, one of the major themes of the third season of The Newsroom has been the death of traditional news reporting, which implies the death of Charlie's legacy.
McAvoy and MacKenzie McHale's wedding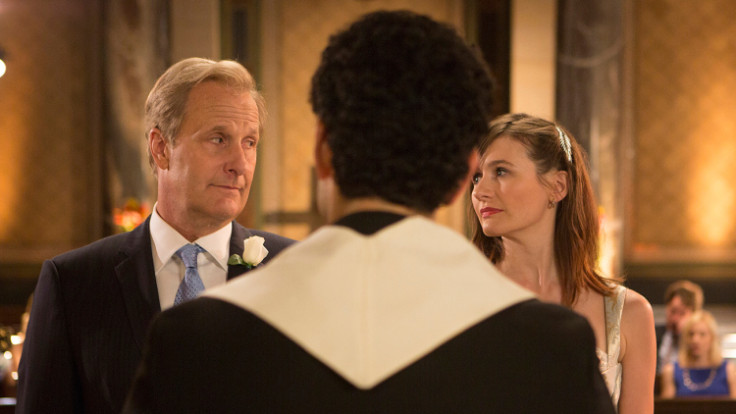 In the last episode, titled Contempt, Neal's espionage story was cancelled by Pruitt, Will McAvoy thrown in jail for refusing to name Neal's source and relationship issues mount for Jim and Hallie.
Also, McAvoy and MacKenzie McHale finally get married in City Hall, before he was taken to jail.
The promo of next week's episode reveals that Will refuses to name Neal's source, while Charlie expresses frustration that Mac has been asked to conduct a TV interview at a rival station.
Meanwhile, Jim and Maggie are also seen boarding a flight in connection to a lead involving infamous NSA whistleblower Edward Snowden.
Episode five titled Oh Shenandoah will air this Sunday, 7 December.
And the sixth episode, which is also the series finale, titled, What Kind of Day Has It Been, will air on 14 December on HBO.
Watch the promo here: