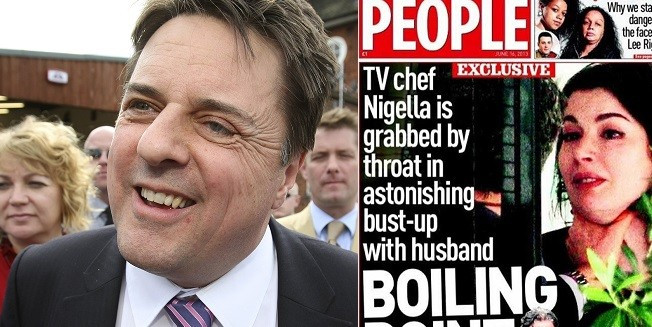 Nick Griffin, the leader of the British National Party, has sparked outrage after saying Nigella Lawson's throat "wouldn't be my first choice" of areas to squeeze.
Griffin had tweeted the message after photos captured the celebrity chef with what appears to be husband's Charles Saatchi's hand around her throat at a restaurant in central London.
After Saatchi described the incident as merely a "playful tiff", the leader of the BNP tweeted to his 25,000 followers: "If I had the opportunity to squeeze Nigella Lawson, her throat wouldn't be my first choice."
The comment received a huge backlash in the social network, with users describing the comment from Griffin as "utterly horrendous" and "truly odious", while describing the BNP leader as a "moron of the highest order".
Following the huge condemnation of the tweet, Griffin sent another tweet saying: "Allusion to the attractiveness of Nigella's profiteroles got 508 retweets & 75 likes in bit over an hour & provoked MSM humour failure."
A spokesman for the BNP said regarding the comment: "If people can't see there is a sense of humour there, I pity them."
If I had the opportunity to squeeze Nigella Lawson, her throat wouldn't be my first choice.
— Nick Griffin MEP (@nickgriffinmep) June 17, 2013
Saatchi, 70, responded to the criticism surrounding the photos in the Evening Standard, saying: "About a week ago, we were sitting outside a restaurant having an intense debate about the children, and I held Nigella's neck repeatedly while attempting to emphasise my point.
"There was no grip, it was a playful tiff.
"The pictures are horrific but give a far more drastic and violent impression of what took place. Nigella's tears were because we both hate arguing, not because she had been hurt." Lawson, 53, has yet to comment on the matter.
Nick griffin's tweet is utterly disgusting, belittling domestic violence with sexual harassment. — Kelley Temple (@NUS_kelley) June 17, 2013
I am rarely shocked by things like this but Nick Griffin's tweet about Nigella was disgusting.
— Jay (@jaay89) June 17, 2013
Police have said that neither Lawson, nor anyone else, has yet made a complaint about the incident at Scott's in Mayfair on 9 June.
A spokesperson added: "Officers from the Community Safety Unit at Westminster are aware of the Sunday People article. Enquires are in hand to establish the facts of the incident."
A witness at the restaurant was quoted saying: 'It was utterly shocking to watch. I have no doubt she was scared. It was horrific, really. She was very tearful and was constantly dabbing her eyes. Nigella was very, very upset. She had a real look of fear on her face. And yet she kissed him. She appeared to be a woman who loves him but was clearly unable to stop him being abusive, frightening and disrespectful to her."
Lawson has reportedly left the family home with her children since the incident.