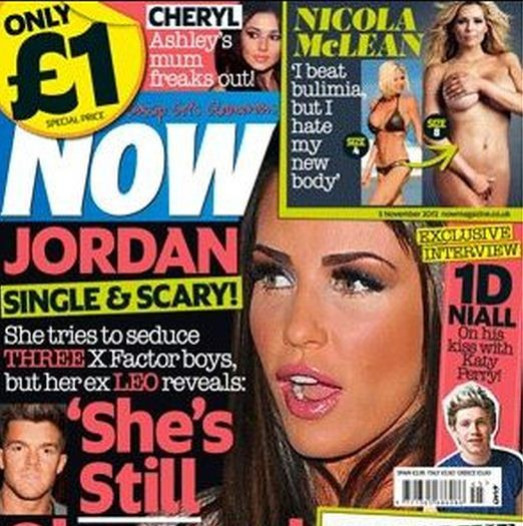 Glamour model Nicola McLean has admitted she loathes seeing herself in mirror and there is not one part of her body she likes. For the latest issue of Now magazine, the 31-year-old mother of two posed nude and revealed un-airbrushed picture of self and spoke about her body issues.
"I don't love anything about myself. I hate my eyes - they're too small and I have a squint. I'm really ugly without make-up, so I always wear it," she said, "I have such bad body dysmorphia. I was bullied at school for being ugly and it stayed with me. I changed everything I hated about myself, like my teeth, boobs and hair, but I still don't love anything - only the fake bits."
McLean who has been part of reality shows like Big Brother and I Am A Celebrity...Get Me Out Of Here!, revealed she underwent two breast enlargement procedures, Botox, hair extensions, Lipoglaze, and even veneers on her teeth.
"I like the cartoon character look like Pamela Anderson, so I went from an E to a G. It helped take away my insecurity because people only commented on the size of my boobs," she said.
The media personality, who is married to footballer Tom Williams, admitted that her eating disorders affected her marriage too, she said: "I was erratic, hungry, sad and lonely. Tom didn't fancy me. He walked on eggshells around me. It was strained. We definitely didn't have sex as much."
The Scottish model showed off her stretch marks on the cover photo of the magazine and explained how she struggled with body dysmorphia, bulimia and anorexia in the past.
"Two years ago, I was really ill. I was 6st 4lb and a size 6," she said," But I look at the photos and part of me thinks: 'You did look really good.' I looked old. And so sad. I can see I looked bad. But I was on the cover of magazines and thought: 'I must look good'. That didn't help because it gave me attention and that's what you want when you're anorexic."
"I was wearing clothes for an eight-year-old and my GP told me: 'Get help or you'll be sectioned'. They said I'd have to gain weight in two weeks, so I ate protein shakes. I thought: 'There's no way I'm leaving my kids'. I put on a stone in a month," she added, "I still want to be small, but I don't want to die."