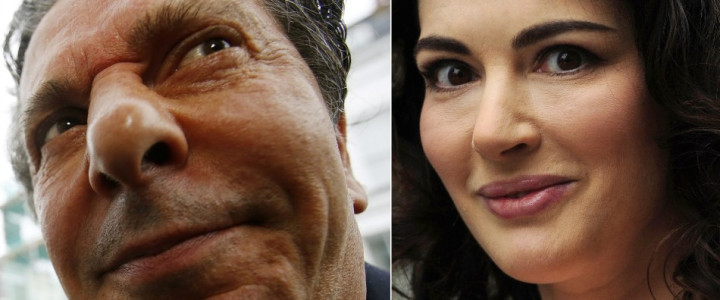 TV cook Nigella Lawson has called in the lawyers after a blogger published a series of allegations about her divorce from Charles Saatchi.
A well-placed PR executive, who cannot be named for legal reasons, published an article which alleged a series of problems in the marriage between Lawson and former PR guru Saatchi, 70.
The author claimed these problems were the real reasons for the couple's divorce.
Lawyers acting for Lawson, 53, swiftly contacted newspapers and warned editors not to publish the claims about the high-profile former couple. The author of the piece said he had published the article because the papers were scared of Lawson's "highly litigious lawyers."
Saatchi remained tight-lipped when confronted about the new claims made online. He told reporters: "Ive got nothing to say. There is nothing to say. I don't know what you're talking about. Really, I've no idea what you're talking about."
Lawson also stayed silent on the claims, as she concentrates on cracking the American market with her latest cookery show.
Lawson and Saatchi split up following the publication of pictures apparently showing them having an argument at a restaurant. In June the Mirror published images of Saatchi holding Lawson by the throat and using his hand to cover her mouth, after paying a reported £14,000 for them.
Saatchi applied for divorce a month later, after accusing Lawson of failing to publicly deny accusations he physically abused her. Their marriage was dissolved at the High Court in London in a hearing which lasted less than a minute.
Speaking at the time, Saatchi said: "I feel that I have clearly been a disappointment to Nigella during the last year or so, and I am disappointed that she was advised to make no public comment to explain that I abhor violence of any kind against women, and have never abused her physically in any way."