Celebrity chef Nigella Lawson's latest appearance in a £85 electric-blue gown has grabbed many a eyeball. The dress called Midhurst gown from British fashion house Diva Catwalk has been sold out already and won't be back in stock until January 15.
Just hours after Lawson appeared on photos promoting her new US TV show, The Taste, the dress was sold out.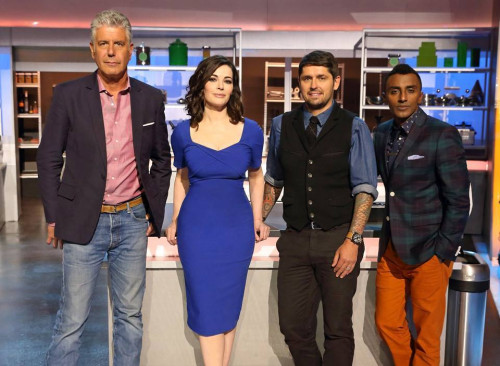 Meanwhile, Lawson will face a police investigation over her confessions that she was an occasional cocaine user in court.
That is according to senior Scotland Yard officer Stephen Watson who said officers would look at all aspects of what was said during the trial.
"We will use specialist resources from within the Metropolitan Police Service to examine all the evidence which emerged as part of a review into this matter," Watson said.
"At some point, once that review is included, presumably in conjunction with the Crown Prosecution Service, we will determine a way forward. Part and parcel of that review we will undertake will be to look at all aspects of the testimony that was given in the trial, which is now public knowledge, and will reveal itself in the transcripts of the trial," he added.
Lawson's personal life has been the centre of attention ever since her former husband, art tycoon Charles Saatchi, was pictured apparently throttling her in public.
The allegations came up during the trial of Italian sisters Francesca and Elisabetta Grillo, who were Lawson's assistants. They were accused of committing fraud while they worked as PAs to the couple having allegedly blown £300,000 on taxis, flights and clothes.