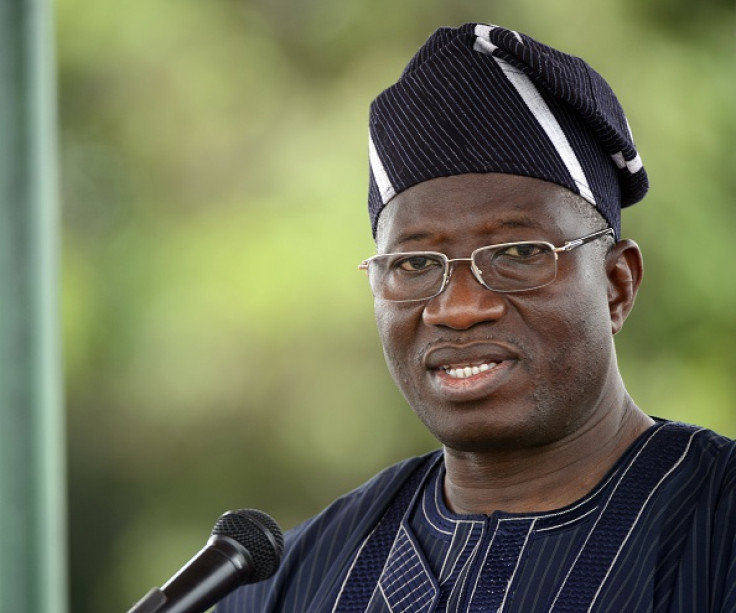 Nigeria's former president Goodluck Jonathan has denied allegations that he and his oil minister received kickbacks as part of a $1.3bn (£1.07bn) deal with Italian oil company ENI and Royal Dutch Shell. The two oil giants made the $1.3bn payment to purchase the OPL 245 block, an offshore oil block in Niger Delta region, in 2011.
The deal is currently under investigation in Italy, where prosecutors alleged the two oil giants illegally bought the block, breaching domestic laws, "without competitive tendering" and with "full, unconditional exemption from all national taxes", according to AFP.
In December 2016, prosecutors presented documents in a court in Milan against the two oil companies as well as 11 other people.
Jonathan and his long-term petroleum minister, Diezani Alison-Madueke, do not feature in the list, but are alleged to have played a central role in the deal.
Prosecutions claimed that $801.5m were transferred to the accounts of Malabu Oil and Gas, deemed as the "fraudulent holder" of OPL 245 block. The company is owned by Dan Etete, who worked as oil minister under the administration of Sani Abacha from 1995 to 1998.
The prosecution claimed that at least $466m of the sum was converted into cash and used for remunerating government officials, including Jonathan and Alison-Madueke. Another $54m was withdrawn by Abubakar Aliyu, described by prosecutors as an "agent" of Jonathan.
Prosecutors further alleged that ENI chief executive Claudio Descalzi and his predecessor Paolo Scaroni met Jonathan "in person" to discuss the deal.
Jonathan denied the allegations. A statement published on his official Facebook page stated that the claims were not based on factual evidence.
''In the first place, we have to categorically state that the negotiations and transactions for the oil bloc deal pre-date the Presidency of Dr. Goodluck Ebele Jonathan, which began on May 6, 2010 and ended on May 29, 2015," said the statement.
"As President of Nigeria, there is no doubt that Dr Goodluck Jonathan met with executives of all the oil majors operating in Nigeria and urged them to, among other things, support the growth of the Nigerian oil industry by ramping up their investments and comply with the Local Content Act that he promoted and signed into law.
''We, however, wish to state, for emphasis, that at no time did the former President hold private meetings with representatives of ENI to discuss pecuniary issues. All the meetings and discussions former President Jonathan had with ENI, other IOCs and some indigenous operators were conducted officially, and in the presence of relevant Nigerian Government officials, and were done in the best interest of the country," continued the statement.
---
Nigeria up close: Check out our Flipboard magazine
---