This morning (6 January, 2015) Nintendo announced a special Ambassador Edition of its 3DS handheld which would be made available to select members of its Club Nintendo community.
Available via Club Nintendo for £179.99, the limited edition bundle has already found its way onto eBay, with some Buy It Now options in the range of £250 to £399.99.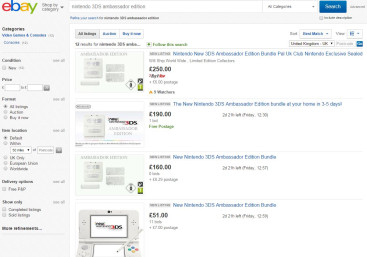 Nintendo refused to detail how they selected who would be able to purchase the Ambassador Edition when asked by Eurogamer.
One listing has already generated 19 bids in just a few hours. The current winning bid is £215.00.
Those ordering the console through Nintendo have been told to expect to receive their console - a variation of the new 3DS XL (2014 model) set to go on sale in the coming months for £159.99 – within seven working days.
The new 3DS XL includes a better 3D screen, increased processing power, and a smaller second analogue stick. The console has already launched in Japan and Australia. There's no word yet on a specific UK release date.
One of the eBay listings for an Ambassador Edition reads: "Hello lucky people. Here I am offering one lucky buyer what was my opportunity to purchase the new Nintendo 3DS consoles before its official European launch."
Twelve consoles are currently for sale on the auction site.