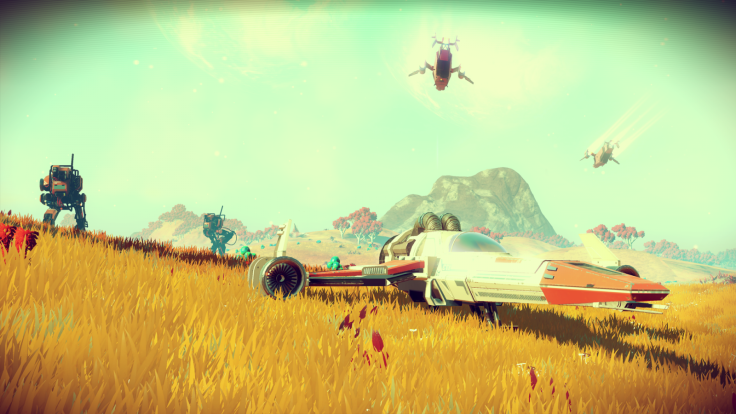 The highly anticipated release of Hello Games's No Man's Sky for PS4 was relatively successful, but the PC release of the space exploration game faced multiple issues at launch. Several performance problems, including frame rate drops, crashing during gameplay and at start-up, freezing and graphics issues were reported by players. Quick to address the PC version's technical woes, the developer released an "experimental" patch for gamers to try out.
Currently in its beta stage, the patch is still incomplete, but does fix some of the "most critical issues" affecting the sci-fi sim, including its stuttering framerate, alt-tab crashes and mouse jittering.
"We have hotfixes for many issues in a build which is currently with our test team," Hello Games wrote in a post detailing the patch notes. "This will exit testing and be made live for all players early next week. If you are having issues and want to check this out immediately, we have made it available in a new Steam branch, called 'Experimental.'"
"We've already resolved many issues for people who reported them by moving them over to this branch."
Players eager to fix some of the PC version's biggest problems can opt to try out the patch. Players can also choose to remove it later if it does not work as well as it should.
To install the "experimental" patch, simply right-click on the No Man's Sky listing in the Steam Library page, then select "Properties" from the drop-down menu and click on the "Betas" tab.
Under "Select the beta you would like to opt into" choose the "Code: 3xperimental" option in the dropdown menu and the game should automatically update. Make sure that the game is not running while installing the patch.
Recently, Hello Games founder and creative director Sean Murray offered a few workarounds for some of the performance issues faced by players following the game's worldwide launch for PC on 12 August. He also added that the first patch was already released, just hours after the PC version's launch as well.
The indie developer is also simultaneously working on an upcoming patch to address the "most critical issues" plaguing the game's PS4 counterpart. The PS4 patch will be released sometime in the "near future".
Here are the patch notes for No Man's Sky PC version that addresses some of the major problems reported by players:
No Man's Sky is available now on PS4 and PC.