Nokia 3310 (2017) vs Nokia 3310 (2000): What has changed in 17 years?
We take a look at the much-loved Nokia classic and how it compares to its 2017 refresh.
Despite the roster of flagship smartphones and innovative new gadgets lining the halls of MWC this year, the biggest buzz has centred on the return of the Nokia 3310, which is arriving in selected markets this summer.
The €49 (£41) handset marks the revival of the retro classic which became one of the best-selling – and undoubtedly most famous – mobile phones of all time when it was launched in September 2000.
Needless to say the new device, which goes by the same name, has seen a few tweaks in the 17 years (give or take) since the original Nokia 3310's release.
For those of you interested to know exactly how much has changed in that time – or are perhaps still clinging to your original 3310 are finally considering that upgrade – here's a look at how the classic Nokia 3310 compares to its 2017 revival.
Design and dimensions
The Nokia 3310 was famed for its robustness. Back in the glory days of plastic construction, mobile phones were a good deal more hard-wearing than today's fragile glass-and-metal devices and could weather a fair beating before needing to be replaced. Even then you could fix most cosmetic blemishes by popping off the face plate and replacing it with a new one.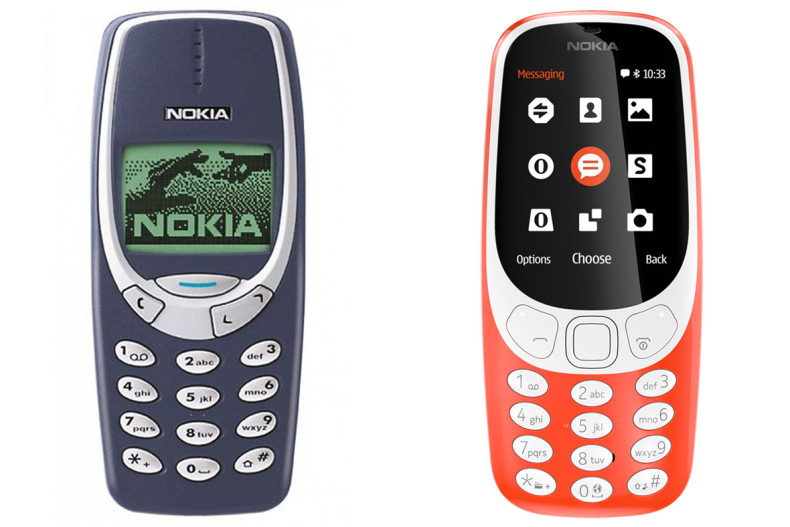 The original candy bar-style phone measured 113 x 48 x 44mm, which is positively monstrous by today's standard, and tips the scales at 133g. The handset features a total of 16 physical buttons, including a 12-key numerical dial pad, navigation keys and a power button.
The Nokia 3310 (2017), maintains the retro charm of the original device with a similar candy bar design, numbered keypad and physical navigation buttons, albeit with a slightly more refined and ergonomic design. At 115.6 x 51 x 12.8mm, the Nokia 3310 (2017) is slightly taller than the original 3310 yet significantly slimmer, and lighter at just 79.8g. Here's hoping it'll be equally as durable.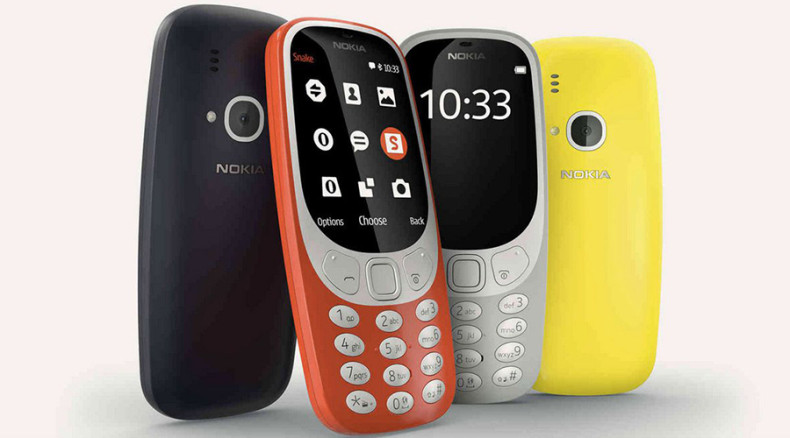 Display
Back in 2000, the Nokia 3310's 84x48 pixel monochrome graphic display was standard fare for mobile phones. This could display up to five lines of text at once and was decent enough to display playable, albeit graphically limited, games.
The screen on the Nokia 3310 (2017) has been extended to 2.4in and now packs QVGA technology. At 320 x 240 pixels and offering full colour, it's a huge improvement over the old Nokia 3310 even if it pales in comparison to current flagship devices, which this in no way is. True to the original device, the 2017 edition doesn't pack a touchscreen.
Interface
The original 3310 featured an extremely simplified interface that allowed users to access calls, messages, games and setting by hitting the blue menu button and then navigating through options with the directional keys. At a time when a calculator and built-in stopwatch were considered notable features, there wasn't a whole lot you could do on with the Nokia 3310 beyond calling and texting people.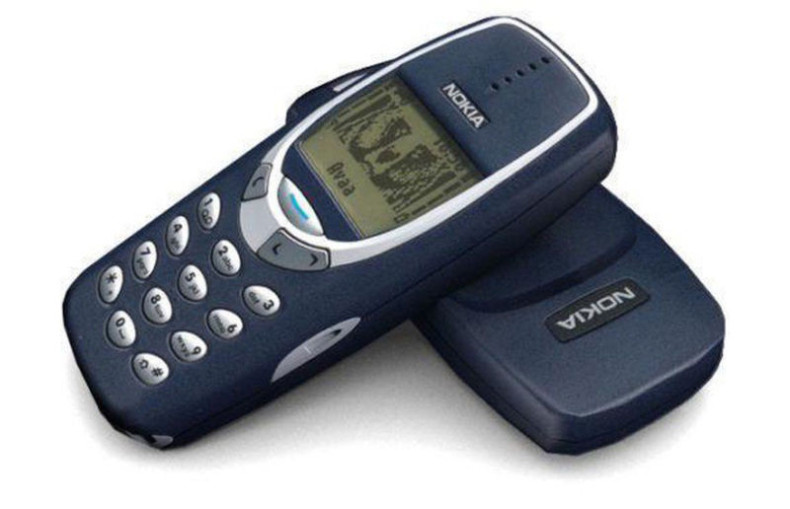 The Nokia 3310 (2017) features the Nokia Series 30+ operating system found on a number of Nokia feature phones, and provides a more intuitive way of navigating the phone's menus. A 3x3 tile menu provides quick access to contacts, call logs, messages, photos, a calculator and Snake — yes, the old favourite is back, albeit in a slightly more glitzy affair that doesn't quite boast the simplistic appeal of the 3310's Snake II.
Connectivity
Mobile phones weren't the pocket-sized computers that today's smartphones are with connectivity very limited. The original Nokia 3310 featured 2G GSM connectivity on the 900MHZ and 1800MHz bands – so you could forget about browsing the 'net.
The Nokia 3310 (2017) gets a few of the goodies afforded by today's wireless technology, including Bluetooth, FM Radio (yes, there's a headphone jack), Bluetooth and a micro SD slot. Still, there's no Wi-Fi on board and connectivity is limited to 2.5G, allowing for an extremely basic web browsing experience.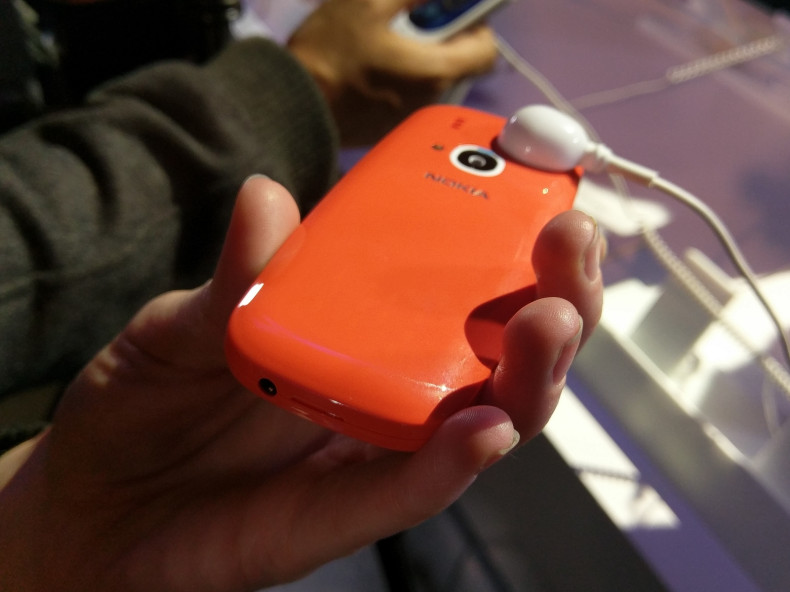 Camera
You'd be hard-pressed to find a camera on a mobile phone back in the early 2000s, which didn't start becoming a common sight on handsets until the middle of the decade. As such, the original Nokia 3310 couldn't claim a single megapixel to its name.
The new Nokia 3310 does come with a camera, albeit a very basic one packing 2MP that will only snap very grainy-looking photos. It's certainly no Xperia ZX Premium, but at least it comes with a digital zoom and LED flash.
Battery life
Despite it only packing a 900mAh battery, former Nokia 3310 users will regale you with stories of its battery lasting for days on end without needing charging. Indeed mobile phones were a lot less demanding those days (especially that non-colour display), which meant Nokia's handset was capable of around 4.5 hours of talk time and a massive 260 hours on standby without needing its power topped up.
The new Nokia 3310 comes with a larger 1,200mAh battery, which manufacturer HMD Global claims is good for up to 22 hours of talk time and up to a month on standby, which puts the original handset to shame.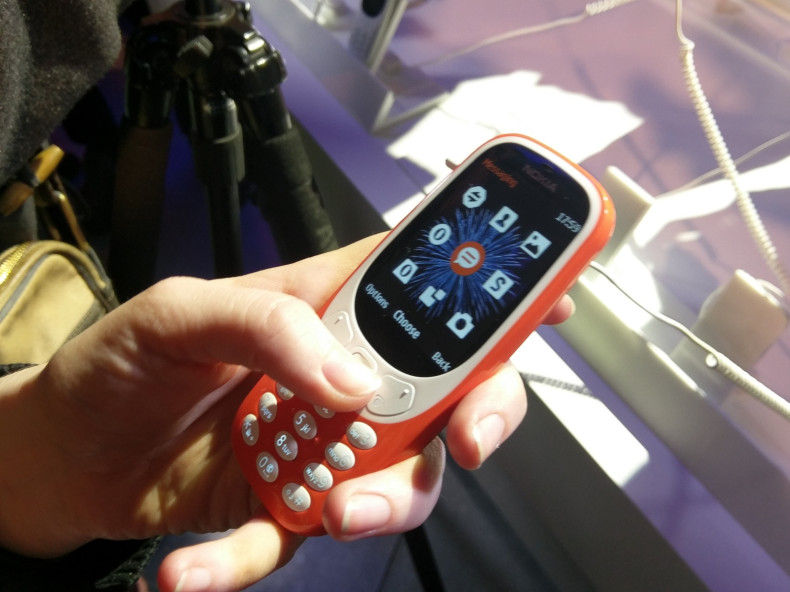 Price
Back when it was released you could pick up a Nokia 3310 for around £130 on a pay-as-you-go SIM. Today, the handset has become somewhat of a collector's item for retro tech lovers, meaning you could potentially pay upwards of £150 for a brand new, factory-sealed device from somewhere like eBay.
This is particularly ironic given that the new Nokia 3310 (2017) costs just £41 unlocked. Yet does it retain enough of the original's retro charm to rekindle our love affair with the phone? That's for the Snake fans to decide.
Be sure to follow us on Twitter @IBTimesUKTech for all the latest smartphone news and hands-on from MWC 2017.