Microsoft has just closed the deal to acquire Nokia's mobile phone business but the software giant now needs to answer some very big questions if it is to make the most of the deal.
It seems like an age since then Microsoft CEO Steve Ballmer announced that the company would be buying the mobile phone business from Nokia, calling it a "bold step into the future".
Almost a full eight months later, the deal has finally been closed but this is just the beginning for the software giant which now faces a lot of tough questions relating to just how it is going to make the most of what it has bought from Nokia.
So, just what has Microsoft bought:
The Lumia brand and smartphones - which represent 90% of Windows Phone devices
The Asha brand and feature phones - the big-selling entry-level models
Nokia X range - Android-based smartphones that use Microsoft services
Nokia's feature phone business
25,000 new employees
and in return Nokia received:
This is a huge move for Microsoft which is currently in the middle of the biggest transformation the company has ever seen and one which if it doesn't get right, could be catastrophic.
---
1. Can it handle making 250 million phones a year?
---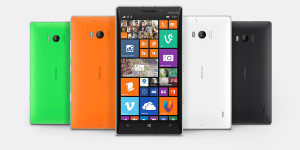 Nokia may not be the darling of the smartphone industry, but it should be remembered that it is still the second biggest seller of mobile phones in the world behind Samsung - shipping over 251 million devices in 2013.
That means that Microsoft will need to adapt quickly to the pressures of being a hardware manufacturer. Yes Microsoft already produces hardware like the Xbox consoles, Kinect sensors and Surface tablets but nothing on this scale, and it will need to make sure that the transition happens smoothly if it wants to maintain what is a lucrative business.
---
2. What's in a name?
---
Microsoft. Nokia. Lumia. Asha. Nokia X. Windows Phone. Android. Microsoft Mobile.
These are just some of the names involved in this deal and if Microsoft wants to really make its mark in the smarpthone world it will need to get the branding of its newly acquired mobile phones right.
The business it has just acquired will now be called Microsoft Mobile, which seems like a sensible start. The Asha and Lumia trademarks go to Microsoft as part of the deal so it's likely we'll continue to see these used - at least in the short term - possible as Microsoft Lumia and Microsoft Asha.
The Nokia name, which carries such weight, has been licenced by Microsoft for 10 years, but only for use on feature phones. Nokia itself can't use the branding on any device until the start of 2016. It means the iconic Nokia name may disappear from view altogether.
Whatever names Microsoft uses, it needs to make sure the branding is clear and straight-forward - something Chinese manufacturer Xiaomi understands
---
3. Software: Windows Phone, Android or Series 40?
---
Software is what Microsoft built its business on, but mobile software is not something the company has been particularly good at - and now it has three different ones to deal with.
Windows Phone is getting better all the time and will continue to drive the Lumia smartphones. The Redmond company will be hoping that brining hardware development in-house will lead to tighter software and hardware integration - some which hasn't worked out too badly for Apple.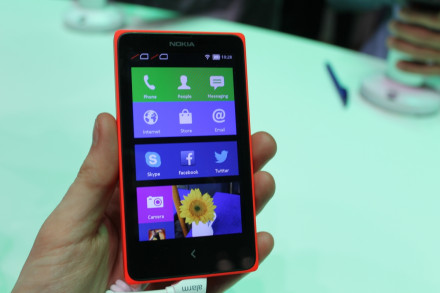 Next up is Android - well a version of Android at least - which is running on the entry-level Nokia X smartphones launched earlier this year.
Aimed at developing markets, the software has been tweaked to remove all evidence of Google replacing its services with Microsoft's Bing, OneDrive and Skype. The interface has been changed to look a lot like Windows Phone (see left), and these devices could prove to be a gateway for Windows Phone for customers in developing markets.
Finally we have Nokia's own Series 40, the feature phone OS which offers some of the functionality of smartphones but at a much reduced level.
It is likely Microsoft will want to phase out Series 40 fast as it will cost money to maintain and develop, possibly looking to move all Asha phones onto the Android software initially.
---
4. How do you integrate two technology giants?
---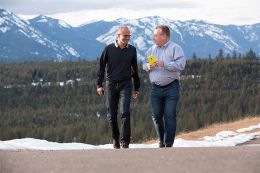 Satya Nadella, Microsoft's new CEO, has today inherited 25,000 new employees to manage. Making them feel at home without alienating his current staff will be key and it is likely that Stephen Elop - former Nokia CEO and now Vice President of Microsoft's Devices & Services - will be instrumental is managing that transition successfully.
Initially at least, it looks like the new business will remain slightly apart from the core Microsoft business, with Nadella likely wanting to take his time to make sure he gets the integration process just right.
---
5. Is it worth the risk?
---
While the amount Microsoft is paying for Nokia is dwarfed by the $8.5 billion it paid for Skype back in 2011, it is still a huge amount of money to risk.
Maybe even more importantly this could be Microsoft's final roll of the dice to get seriously into the smartphone market.
Nadella's "mobile first, cloud first" mantra has been clear from the start of his reign, but if he really wants to make a mark on the lucrative smartphone market, he needs to make sure he leverages everything the Nokia brand, talent and hardware have to offer if this deal is going to be a success.