Nokia is no stranger to banking on nostalgia. Last year, the company revealed an updated version of the Nokia 3310, one of the company's most successful phones. With four different colours and a 2-megapixel camera, the 3310 was a cheap (about £50) throwback with an updated body. There was no 3G or 4G, but it did include an MP3 player for music.
This year, Nokia is updating another classic phone - the Nokia 8110. Made famous by The Matrix movie in 1999, the mobile phones would quickly slide open to answer incoming calls. The phone was released in 1996, more than 20 years ago.
The 8110 revamp is getting a few features missing on the 3310 update last year. 4G is included, along with an app store. You won't exactly be scrolling through the Android Play Store, but you can get Facebook and your Google contacts.
For £70 you get a 2-megapixel camera, 20-day standby battery, 4GB of internal storage and a 2.4-inch display. Not enough? Nokia is keeping its trend of offering bright colours will release the banana model that comes in bright yellow.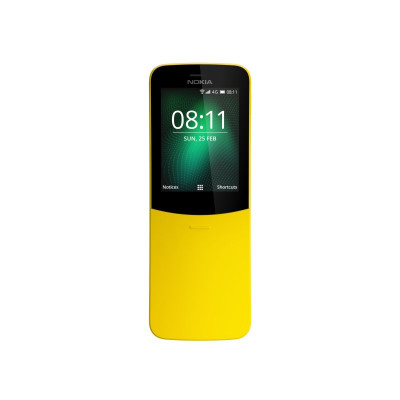 Despite the strong hit of nostalgia, the Nokia 3310 was not received well by critics. IBTimes UK gave the phone 2.5 stars out of five:
"As an updated pastiche of the original there is plenty to like about the new 3310. The design puts the fun into functional and there's no denying the nostalgia summoned by a game of Snake. But don't be fooled; this may be a phone named to tugged at your heartstrings, but ultimately it was designed to be cheap, simple and to survive a festival."
The Nokia 8110 will launch in the UK around May. Official pricing has not yet been announced locally but the phone will cost 79 euros.