When you think of smartphone manufacturers, chances are you would picture Samsung, Apple, Sony or HTC. But a construction company that has been building rugged smartphones for years is now challenging the top end of the market. Sort of.
Caterpillar – best-known for its large and rugged machinery – will unveil the Cat S61 at Mobile World Congress in Barcelona next week (25 February).
Targeted at construction workers on site, the Cat S61 includes a rugged design that is dust and water proof at the IP68 rating level.
It has a 5.2in Full HD screen, runs on Android Oreo (with the promise it will upgrade to Android P), and has a 16MP rear facing camera that can shoot 4K video. It also has a giant 4500mAh battery.
But what really sets the Cat S61 apart is a list of features you would not find on a regular smartphone. The device will have a FLIR thermal camera, a built-in laser for measuring distance, and an indoor air-quality sensor.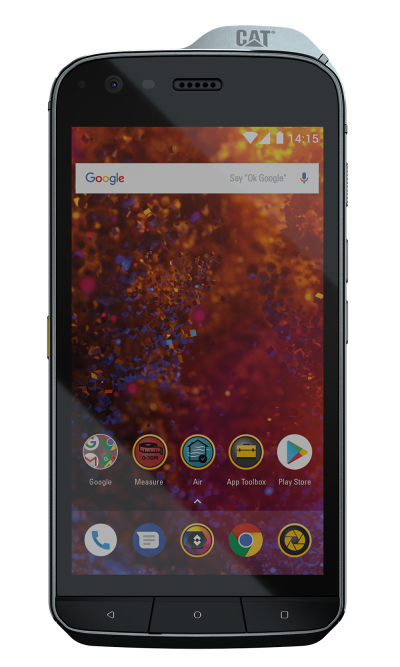 "Electricians, for example, can use thermal imaging to analyse a fuse box or wiring system, and the laser assisted distance measurement to estimate how much cable is required for the job," the website reads. The phone will be built by Bullit Group, the global mobile device licensee for Caterpillar.
Chief executive Peter Stephens said: "we know that 60% of Cat S60 (the previous model) customers use the integrated camera at least once per week and the temperature and resolution improvements found in the new Cat S61 will open up thermal imaging to many more users and use cases.
"Packing in even more genuinely useful tools of the trade means there's simply no other smartphone out there that can do everything the S61 can. We are incredibly proud of it."
A phone that packs that much unique tech inside does not come cheap. Caterpillar will sell the phone for £799 ($1,100) in the UK.