Anti-Semitic vandals have targeted a community of orthodox Jews in North London, defacing cars, walls and windows with swastikas.
Police investigating the vandalism, which targeted vehicles and homes in Stamford Hill, home to around 20,000 Haredi Jews, arrested a 32-year-old man on Tuesday.
Two further suspects have been arrested on Wednesday afternoon in connection with the vandalism.
On Sunday swastikas were sprayed on up to 27 cars on and around Osbaldeston Road, leaving residents feeling "vulnerable", local Shulem Stern told IBTimes UK.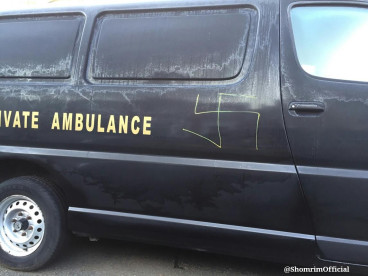 The night of vandalism prompted extra patrols from the Metropolitan Police and Stamford Hill Shomrim, a volunteer "neighbourhood patrol" group which works with local police in the area.
Stern, one volunteer, said Shomrim had stepped up its patrols and "camped out" on the road "to keep a watchful eye" following a flurry of calls to its hotline reporting the crimes.
"Acts of vandalism like these affect the community really badly", said Stern. "I spoke to a disabled female victim whose window was spray-painted with a swastika. She was scared that the person had come right up to her window and could have easily broken into her home that way.
"This is mindless individuals trying to create tension in a unique area. The vast majority of people living here live in harmony."
Another Shomrim volunteer, Meir Taub, said: "There is a large Jewish community that lives here with Holocaust survivors and children of Holocaust survivoers, and to see swastikas is not a pleasant thing for them. People were shocked, scared and fearful.
"A lot of damage was caused to a lot of vehicles and there was a lot of concern."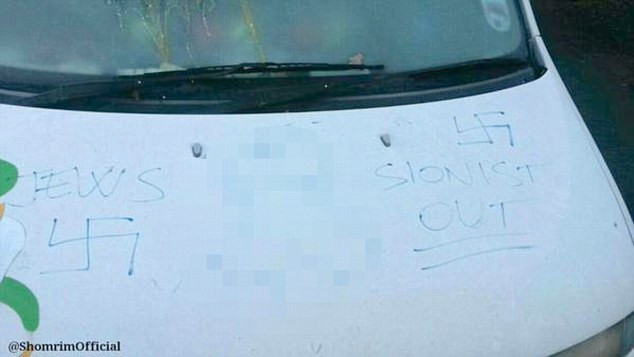 This incident follows recent cases where swastikas were sprayed on to the walls of a local primary school.
This summer, as tensions from the war between Israel and Hamas in Gaza reached the UK, north London's Jewish community were the target of anti-Semitic hate crimes including verbal abuse and racist graffiti.
Shomrim's coordinator Barry Bard said on Tuesday: "Shomrim are committed to bring a stop to these senseless and mindless acts of vandalism, and are working closely with the police investigation to assist in every possible way.
"Similar swastikas have appeared in the same area over the past few weeks. Police are taking these incidents very seriously and are treating it as a hate crime."
By knocking on doors and interviewing witnesses, Shomrim was able to identify a suspect and pass a name on to police. Police have since arrested a 32-year-old man and two further suspects (further details have yet to be released by police) in connection with the vandalism.
<< Breaking Update: Two further suspects arrested by @MPSHackney in relation to recent antisemitic graffiti on Osbaldeston Road #N16

— Shomrim N.E. London (@ShomrimOfficial) December 31, 2014
Police Inspector Jeff Bull said: "We will not tolerate anti-Semitism or racism of any kind. We are doing our utmost to trace and bring to justice the suspects involved in this racist graffiti as well as reassure all of our communities."
Hackney police tweeted: "With the help of @ShomrimOfficial a 32 year old man has been arrested & is in custody for the anti-Semitic criminal damage series in N16."
With the help of @ShomrimOfficial a 32 year old man has been arrested & is in custody for the anti Semitic criminal damage series in N16

— Hackney MPS (@MPSHackney) December 30, 2014