Across Northern Ireland, Loyalists are putting the finishing touches to giant wooden structures which will be set alight on the stroke of midnight tonight (11 July). The bonfires, which can be over 100 feet tall, are made mainly of wooden pallets, and are often provocatively decorated with Catholic or Nationalist symbols such as posters of Sinn Fein politicians.
Many working class Protestants in Loyalists strongholds such as the Shankill in Belfast see the bonfires as an expression of their history and culture. The bonfires, held every year on the Eleventh, commemorate the lighting of fires on the hills to help King William's ships navigate through Belfast Lough at night when his forces landed at Carrickfergus to fight the Catholic Jacobites, supporters of the exiled Catholic King James II.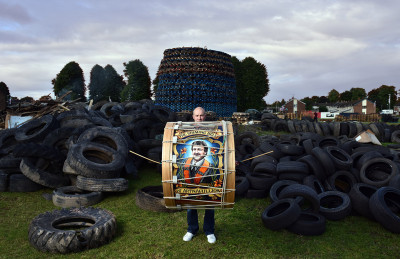 The lighting of the bonfires is a precursor to the controversial Orange marches held every year on the Twelfth to celebrate the anniversary of the defeat of Catholic King James by Protestant King William in the Battle of the Boyne in 1690.