Notting Hill Carnival 2015 guide: Where to go, what to eat and drink, how to get there
With great music, free performances and a variety of tasty dishes on offer, there will be no better place to party this Bank Holiday Weekend than at the Notting Hill Carnival. For yet another year, the streets of West London will be vibrant and busy with partygoers searching for the best sound systems and food stalls. This essential guide will make the weekend much simpler.
Hundreds of thousands of people are expected to flock to the street festival on 30 and 31 August so planning where to go, what to do and even how to find the nearest toilets can be a particularly daunting prospect. Before you seek out last year's whistle and fog horn or find your most colourful clothes, the IBTimes UK has lined out everything you need to know about Notting Hill Carnival 2015 so you are prepared beforehand…
ADMISSION
Everyone is welcome at Notting Hill Carnival. As it is a street party, there are no restrictions on age but the first day of carnival (30 August) is considered the children's day and is much tamer than the Bank Holiday Monday. Of course, it is completely free to attend, just bring money for food, drink and maybe a face paint.
TRAVEL
Make sure to thoroughly plan your journey – and have a contingency plan – before you set off. Ladbroke Grove tube station will be closed over the weekend, but there are other nearby stations and bus routes in the surrounding area.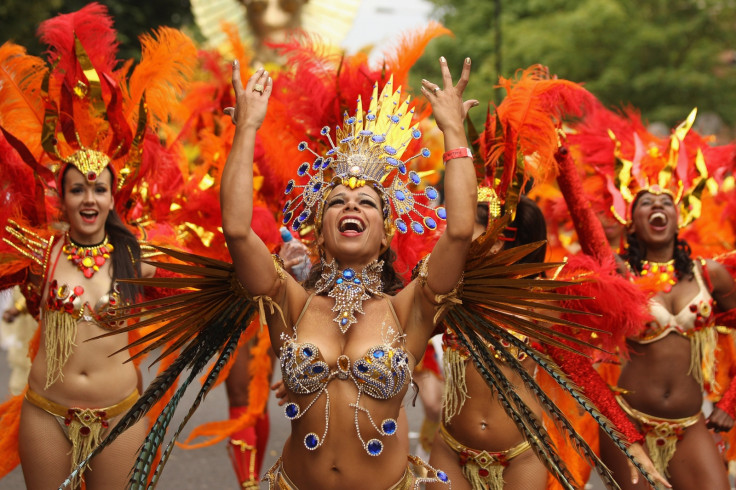 FOOD AND DRINK
One of the best parts of NHC is the traditional West Indian delicacies and food from other countries around the world. There will be food stalls on almost every corner and it would just be wrong if you did not sample at least one of the main dishes, including jerk chicken, curry goat, rice and peas, Jamaican patties and corn on the cob. All of which would be greatly complimented by a rum punch for the full Caribbean experience.
Most of the local pubs will open their doors for NHC again with some of the popular hotspots including, The Elgin, which is situated on the corner of Ladbroke Grove, The Cow, located on Westbourne Park Road and the Portobello Star and the Ground Floor Bar, both of which can be found on Portobello Road.
SOUND SYSTEMS
Oh, the music. The central part of Notting Hill Carnival. Of course, the sounds of soca, calypso, reggae, ska and even hip hop, afrobeats, drum and bass and dubstep, will be all around but here are the main sound systems you will not want to miss.
Rapattack – All Saints Road
Killer Watt – St. Luke's Road
The Fun Bunch – Talbot Road
Virgo International – Oxford Gardens
Disya Jeneration – Powis Terrace
THE FLOATS
Just like the sound systems, the floats will be all around the streets of carnival with fleets of costumed dancers leading the way. If you make it to the end of the day, head to Ladbroke Grove where you can follow the final procession to the end of their route.
Have fun, stay safe and see you there!
© Copyright IBTimes 2023. All rights reserved.