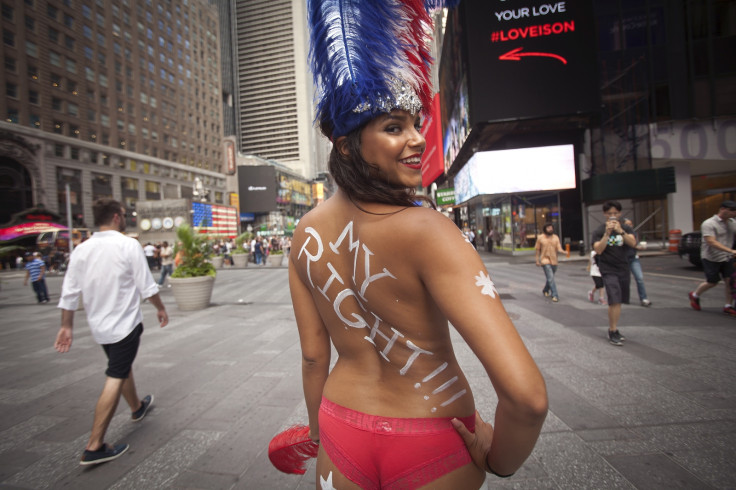 New York City will soon have a new police unit to patrol Times Square following rising complaints over costumed characters and topless street performers. The New York Police Department announced on 26 August that it would recruit an additional 50 officers to the Crossroads of the World. There will be 100 officers there by fall.
The Associated Press reported that Chief of Department James O'Neill said the new officers will work regular shifts and be assigned to the same posts. "Times Square is an important piece of real estate in New York City. And we have to pay attention to what goes on there," O'Neill said.
Crime is low at the pedestrian plazas in Times Square, but complaints have been pouring in about costumed characters and topless women in body paint asking for tips in exchange for photos.
According to the NY Post, a source said the current 47 officers assigned to the area has fallen from the highs of 130 in the past and 100 just a couple months ago. "What happened was that for years we had the Impact cops in Times Square, but that was a [Police Commissioner Ray] Kelly thing so a few months ago they transferred half of the officers there to other commands. So they are [just] getting it back to 100 officers," the source said.
Mayor Bill de Blasio announced last week that a new multi-agency task force would be set up to figure out what to do about the costumed characters and topless women. The task force is expected to issue its report by 1 October, the Post reported.
"We're in the process of this 30-day task force, and they're going to come out with recommendations to make sure our police officers know what they can do as far as dealing with any behavior issues in Times Square," O'Neill said.
O'Neill said the increase in officers patrolling the area should "put people at ease." According to the Post, the officers will not start until October.