An Ohio mother allegedly pointed a gun at a barber because her son's haircut was taking too long. The alleged incident took place at Allstate Barber College on Lorain Avenue, Cuyahoga County, Cleveland.
The incident was reported to have taken place on 14 April but was only recently shared on the Crime Stoppers of Cuyahoga County Facebook page, a police affiliated web hub.
Images show the woman holding what appears to be a gun just yards from her son, who sits in the barbers chair, while other adults, possibly staff, appear to try and console her.
She is reported to have become unsettled by the amount of time it was taking to cut her son's hair.
She then suddenly took a gun out her purse and said: "I got 2 clips. I'll pop you!"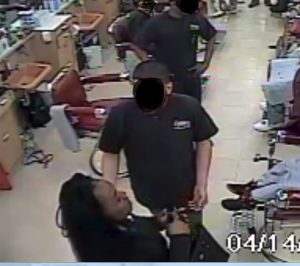 Photos of the episode were uploaded 19 hours ago and already the post has been shared over 200 times.
The Facebook post said: "On 4-14-17 this female suspect was getting her son's hair cut at Allstate Barber College located on Lorain Ave. While the victim was cutting the son's hair the suspect became upset with the length of time it was taking to cut his hair.
"The suspect then pulled out a gun from her purse and said "I got 2 clips. I'll pop you!" The victim finished the cut and the suspect left with her two children. If anyone recognises this female please contact Crime Stoppers."
Crime Stoppers of Cuyahoga County can be contacted at 1215 West 3rd Street Cleveland, Ohio 44113, crimestoppers@cuyahogacounty.us, or (US) (216) 252-746.