Once Upon A Time season 4 returns with an all new episode tonight, December 7 at 8 pm on ABC.
The tenth episode is titled Shattered Sight, where Snow White and Prince Charming's marriage will again be put to the test thanks to the Show Queen's evil curse on Storybrooke.
Click here to watch the episode live stream online.
Click here to watch the episode online.
The official synopsis reads:
Storybrooke is in a state of chaos with all the residents under the Snow Queen's Spell of Shattered Sight at each other's throats. Emma and Elsa race against the clock to free themselves of the ribbons and take down the Snow Queen and her curse. David can only watch when Regina clashes with Mary Margaret in an epic battle. Meanwhile, Gold gathers Belle and Henry as he prepares to leave town forever, and Will Scarlet looks to square his tab with Hook. Kristoff's thick-headedness leads Anna to a heartwarming discovery.
Ginnifer Goodwin, who plays Snow White, previewed the return of Dark Snow and her clash with both David and evil Regina.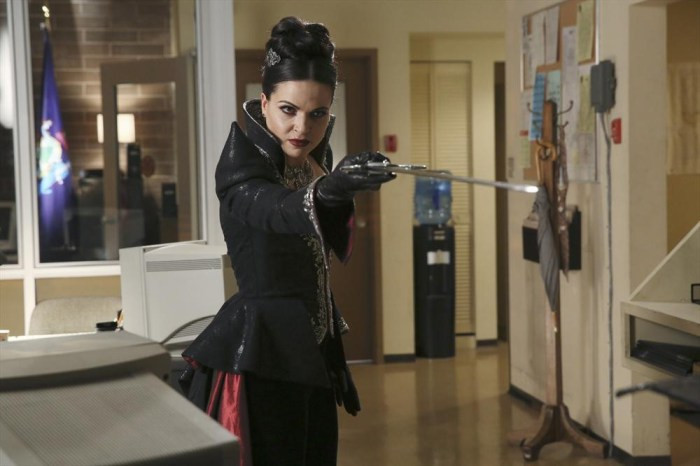 Goodwin told Tvline: "Regina comes back [to the sheriff station] as her full Evil Queen self. But instead of it being that they fall into their old dynamic, it's more that the Evil Queen battles Dark Snow, from those episodes where Snow White was under dark enchantment."
She continued, "And those two energies together is kind of hilarious. I mean, I kept saying, 'I could film this episode every day forever,' because also the dialogue was so meaty. "
Last week's episode titled Fall witnessed the calm before the spell of the Shattered Sight storm, as the town frantically tried to stop the Snow Queen, while the looming dark purple clouds in the sky seemed to be waiting to wreck havoc.
Also, Elsa was finally reunited with her sister Anna and Hook's lack of heart makes Emma suspicious. Rumple successfully makes another deal with the Snow Queen, in return for allowing Belle and Henry to escape town with him.
Who do you think will win - The Evil Queen Regina, or Dark Snow?
Watch the promo here: