One Direction Greet Teen Fan Legions at This is Us Leicester Square Premiere [PHOTOS]
Thousands of fans gather for Morgan Spurlock's One Direction film premiere
One Direction have appeared in London's Leicester Square for the premier of their film, One Direction: This is Us.
They were greeted by thousands of Directioners, some of whom have been camped out for three days.
The film, directed by Morgan Spurlock, follows Liam Payne, Harry Styles, Zayn Malik, Niall Horan and Louis Tomlinson on the road, with behind-the-scenes footage and live concert performances, as well as the story of how they rose to fame through X-Factor and their huge Twitter fan base.
At the movie press conference, Styles said the film was a way of thanking their fans for supporting them.
"This was really a bit of a thank you to fans for sticking with us. We wanted to show them the real us, because social media and interviews don't really give you the chance to get to know someone."
They picked Spurlock, he said, because his filmmaking style - he is best known for the documentary Super Size Me - appealed to them.
"Whatever Morgan does, he always seems to get right into it - he immerses himself into that world. And that's what we wanted. It's nerve-wracking letting people into our lives, even if cameras were following us around on the X-Factor for 10 weeks.
"We needed someone we could trust because we were scared. But we've never said to him: 'Stop filming, this is private.' We really did want everything about us to go in."
Spurlock said the experience of filming with the band was the closest he could imagine to Bealtemania in the 1960s.
"The access we got, the stories we tell, it's remarkable. The thing I thought was incredible was that everywhere you go, you suddenly realised that it isn't just a British or an American phenomenon.
"Once you get outside of the country wherever they go they are chased by hordes of fans. We were in Mexico City and there were 5,000 people camping outside the hotel.
"This is such a massive global phenomenon and it's only growing. It was incredible to witness and see."
One Direction: This is Us will be released in UK cinemas on 29 August.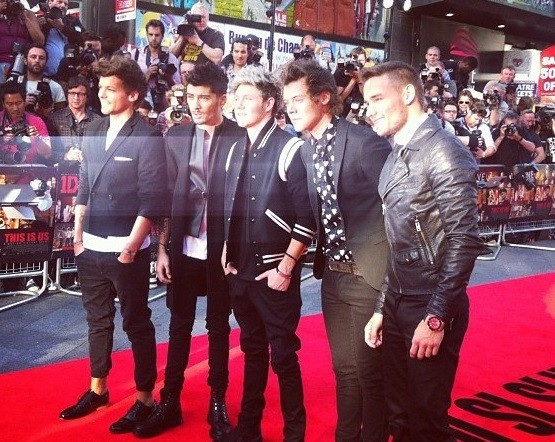 © Copyright IBTimes 2023. All rights reserved.